Employees at Abbott Vascular were in for a treat when they heard that they had to attend meetings at their facilities in Santa Clara. When people think of meetings, they usually think of long hours spent in a boring conference room. But, in comes Stuart Event Rentals, with thanks to the creative designs of Elements, employees got to sit comfortably on black Chiavari chairs in an air-conditioned 50 x 80 tent with a liner, ambient lighting and blue carpet.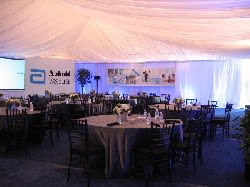 Taste Catering catered this 2-day event with beautiful food stations set-up under a 20 x 20 canopy right next to the large tent. They also provided floral centerpieces in silver containers that matched our Crushed Iridescent Platinum linens beautifully.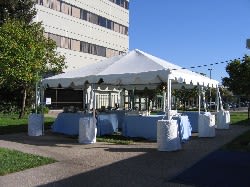 The seating was only for half the table so that employees could enjoy their food while being able to watch and listen to the presentation. No employee had their back to the speaker.
What a great way to hold employee meetings!