Hosting a fundraiser? Entertaining your board of directors? Graduating the class? Celebrating a championship? Need a rainmaker? Since 1849 all sorts of groups around the Bay have relied on our broad range of skills, products, and tools to bring events to life. When it comes to event rentals for schools and non-profits, Stuart is the go-to rental company.
Milestone 1849: Stuart provided shelter for Gold Rush prospectors following President Polk's State of the Union eureka announcement of gold in California.
Milestone 1938: Stuart designed and installed patented safety net that saved 19 lives during construction of the Golden Gate Bridge.
Recent Golden Moment: Spring 2015. Annual Graduation Ceremony. 10,000 diplomas. 1 day. 40 acres. 80 tents. 6,000 chairs. 10 stages. 5 ADA ramps.
We know local jurisdictions, codes, rules & regulations, and have direct contact with decision-making officials. Working closely with conservation authorities, we provide a conscientious sustainable event rental business. Our experienced project managers handle loads of logistics seamlessly, so that you can focus on your group and goals.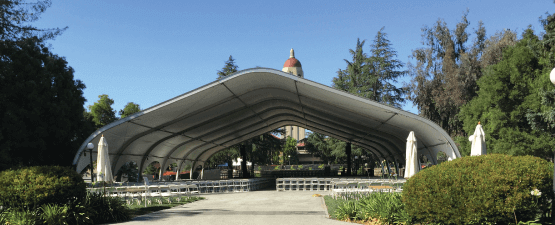 Scale
Pre-school to grad-school
Public park to high security compound
Private luncheon to ticker tape parade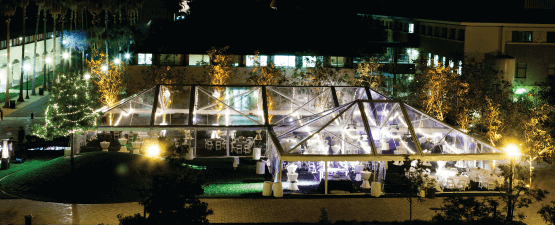 Case Studies
Spectacle: Marathon on Market Street.
Faire: 110,000 visitors over 2 days.
Picnic: 1 table decked to the nines.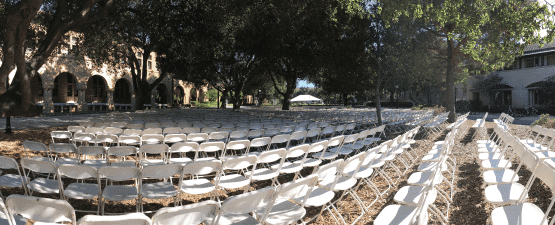 High IQ's Go With Stuart
Let us know your goals and we'll dedicate specialists to achieve them. Are you looking for designs or products or plans or permits or transportation or construction or installation/removal or plumbing or energy or climate control (yep, we can do that) or all of the above?
Call or visit any of our 3 Bay Area showrooms and learn why we're counted upon, year after year for event rentals for schools and non-profits.