We recently had the pleasure of setting up a fantastically unique event at Stanford, in celebration of the 2004 alumni's ten year reunion. Custom gobo lighting and psychedelic colors reflecting off of white and silver furniture all contributed to this celebration's wow factor.
The main event took place beneath a 120×260 pole tent that was partitioned off into a 120'x120' area, with the other side being used for another event.  Cathedral walls surrounded the tent, allowing guests to get a glimpse of the colorful excitement that awaited them.  Additional tent rentals used were a 20×20 connector tent and a 40×40 frame tent which guests entered through clear glass double doors. Black turf covered the floor and heaters provided a comfortable temperature throughout the event.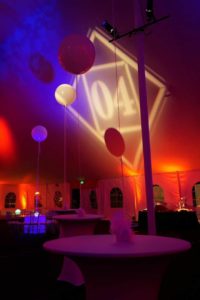 Many lighting features went into the design of this event. Uplights lit up the white sidewalls while a gobo leaf pattern washed over the ceiling. A custom gobo '04' shined brightly against the tent ceiling, honoring the alumni in attendance.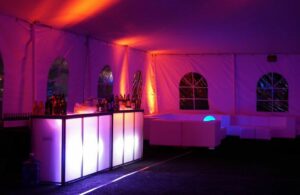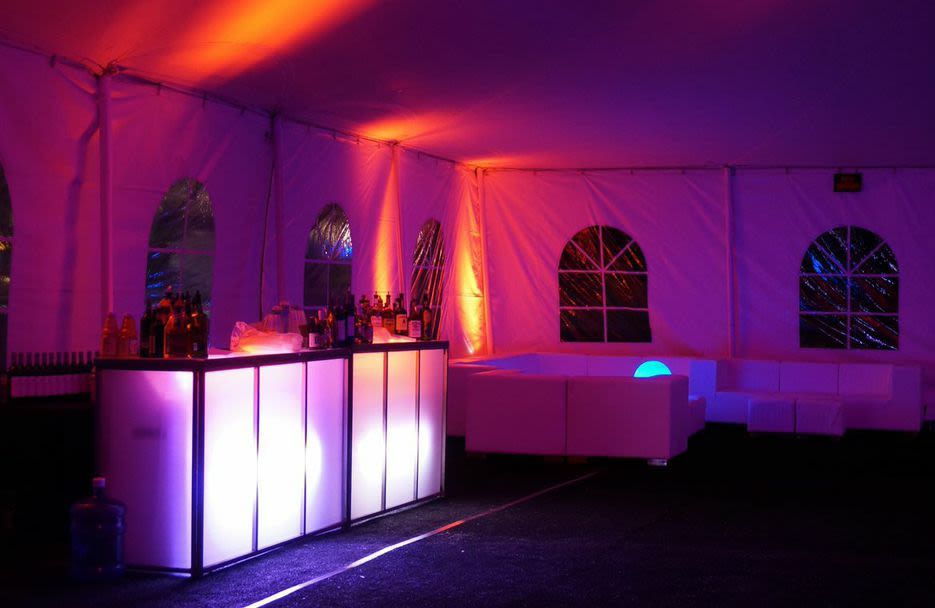 Every corner of the venue was utilized for the event. Party rentals such as lighted bars stood against a wall waiting to serve guests drinks, while beside the bars, a cozy area to sit was set up, featuring our comfortable Manhattan white furniture. Other areas of the tent housed Metro lounge furniture.
Glo-balls were the perfect accent to the seating areas, washing the furniture and walls with continuously changing colors.
Much of the open area was set up with numerous lighted round glass tables and bases surrounded by cushioned Silver Chiavari chairs, as well as cocktail tables covered with white tuxedo spandex.  In another corner of the tent, our white dance was set up beside the DJ table and sound system.
This Stanford reunion was beautifully designed and we are so excited to have been a part of its successful execution! Have you been inspired to plan a reunion or other type of special event? Contact one of our Event Specialists today to get started at 800.400.0543 or visit our website.
For more creative event ideas, visit the Stuart Rental Pinterest page.