Being able to produce and be a part of beautiful and exciting events is always so much fun. I personally like being a part of events that benefit society because that allows us to play a part in giving back to the community. Stuart Event Rentals recently provided the tent and party rentals for the annual fund-raiser for the San Francisco 49ers Foundation that "supports development programs for underserved youth that keep them safe, on track and in school." Investing in our youth is such a worthy cause that it's great to be a part of this fund-raising effort every year.
Over 450 guests and supporters pulled up to the elegant and grand historic Carolands Mansion located among resident houses in Hillsborough, California. As they walked around to the side of the mansion, they entered the massive grounds of this beautiful location. The property was further enhanced by the creativity and talent of Taylor Nguyen, with Ha Lé Events, who designed the look and feel of this elegant fund-raiser.
Guests enjoyed cocktails and silent auctions during the first part of the evening. Amusé orange linens brought a splash of bright color to the grounds.
As the evening progressed and the sun started to set, guests started to slowly migrate over to the main dining tents. Two frame tents were installed on either side of the long rectangular fountain. A stage that housed the band was installed over the fountain as a bridge from 1 tent to the other.
Beautiful alternating black and white linens and napkins decorated each table while yellow centerpieces and lighting brought a golden glow to the entire tent. Pre-fab liners on the ceiling of both tents were accented with chandeliers that brought about elegance in these dining tents. Two sides of the tents were left open to enjoy the music and adjacent fountain while also giving it an open feeling of being a part of the other tent.
The stunning party rentals that were used for each table setting were Black Chiavari Chairs, Empire Flatware, and Majesty Crystal Glassware. The linens used were: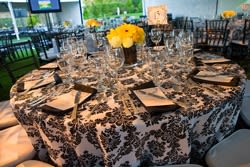 For more pictures of this fabulous event captured by photographer, Paul To of Filtered by Paul, please check out our Facebook.