Congratulations to Anjelica and Alberto. Another Stuart Rental family member was just married recently and yup, you guessed it! The Stuart Rental Company provided all the beautiful wedding rentals for this event.
Anjelica is the lead for our kitchen department in our Milpitas corporate office and she works very hard every day to clean, wrap, count, organize, shelve, and prepare thousands of kitchen items such as china, flatware, glassware, chargers, etc for all our customers' orders. She ensures the accuracy of each order and makes sure they are all in perfect condition before they are sent out. This time, she was finally able to enjoy the fruits of her labor for her own wedding!
For her head table, she chose Imperial Platinum silver china with Dali Flatware for the place settings. Riedel crystal glassware completed this elegant look. Crushed Iridescent Aqua napkins along with matching rose petals sprinkled at the edge of the head table accented the table perfectly.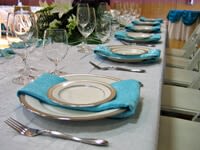 For her linens, Anjelica chose our very popular Taffeta Aqua linens that go to the ground, and topped the table off with our Crushed Iridescent Snow White linen that was scalloped on top as an overlay. Alternating drapes of Taffeta Aqua and Lamour White served as her backdrop.
Her reception tables mirrored the look of her head table with the Crushed Iridescent Snow White linen scalloped on top of Taffeta Aqua linen to the ground. White resin chairs surrounded each table.
Lastly, as a grand finale, this fairy-tale cake was presented on a cake table draped with Taffeta Aqua linen scalloped over white linen.
Congratulations Anjelica & Alberto. The bride, groom, and entire wedding were beautiful!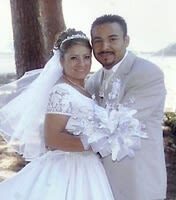 To see more pictures of this wedding, please visit our Facebook page.