As we usher in the year of 2014, the trends of a new wedding season are already in hot debate. While the past couple of years have introduced bold and modern designs, this season's forecast suggests a return to romantic, rustic, and natural styles. We'd like to share a few of our favorite concepts trending for this year's weddings.
Outdoor weddings:
Few reception halls can compare to the beauty of a lake-side reception or a clearing in a forest. From the beach to the mountains, more and more couples are choosing to take their wedding to the outdoors, for several reasons; the space may have specific meaning to the couple, the natural décor is a beautiful and useful advantage, and the outdoors provides the opportunity for a truly unique wedding.
An outdoor wedding doesn't mean omitting comfort. Tenting can house tables, chairs, and dance floors, while heating lamps can keep guests warm during any season. Meshing together the amenities of an indoor reception with the enchantment of the outdoors creates an unforgettably lovely event.
Romantic colors & patterns:
Nude and pink palettes are making a major come back, from tabletop linens, to bridesmaid dresses, to floral arrangements.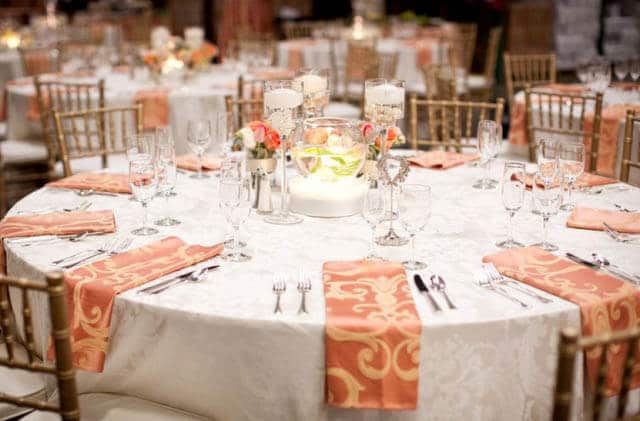 (Designed by Enchanting Events, photographed by Rosaura Sandoval Photography)
While some 2014 trends veer from traditional practices, the return of romance provides a sense of balance. It's time to embrace soft, muted designs, gold-trimmed china, and copious candles in a big way.
Hanging Décor:
Chandeliers, twinkle lights, flowers, strings of crystals…they're in high demand and for good reason. For outdoor weddings, hanging décor can be an elegant bearer of additional light. In the spirit of renewed romance themes, the ceiling is just one more canvas to be covered with festoons of flowers and other adornments. Hanging décor is incredibly versatile and often produces stunning effects.
Serving Food "family style":
If you don't already know, family style is just another term for buffet style. This means wedding guests serve themselves by going up to tables holding food and drinks, and select their own meals. There are several upshots to providing food in this fashion. It's much easier and more economical than hiring servers, the pressure of providing each guest with a perfectly individuated plate of food is eliminated, and giving guests the freedom to mingle creates an atmosphere of relaxed amiability.
Naked Cakes:
The naked cake surfaced sometime in 2013 and has been picking up momentum ever since. The emphasis of the cake is placed on the integrity of ingredients and taste as opposed to the traditional iced and ornamental décor. In accord with the trend of natural-themed weddings, naked cakes are usually gussied up with seasonal fruits and flowers, providing an aesthetically pleasing presentation.
We do recommend consulting a professional baker, as some event planners have noted that the icing which completely covers a traditional wedding cake helps to retain the cake's freshness.
We'd love to know what 2014 wedding trends you're looking forward to seeing and using! Share them with us on our Facebook and Twitter pages.