Corporate event planning requires a slightly modified and more structured approach than the typical celebratory event. Whether you're a novice or seasoned planner, the following compilation is a group of important steps that are always helpful to brush up on.
Event Concept:
The first step is to determine the event goal or objective. Is it a holiday? An award ceremony? A workshop for new employees?
Decide what you or your company wants to gain or establish from this event. From there you may want to tack on a theme or concept to follow throughout the event.
Color palettes are often a starting point for furnishing corporate events with a theme. Combinations of company colors are both popular and practical. Formal black & white, classic blues, and mellow pastels are among other well-liked options.
Selecting Vendors/Locations:
If you don't have a working relationship with specific vendors, make time to meet with a few, and do your homework before making a conclusive decision. It's beneficial for both parties to establish a partnership which can be used in the future.
Conference halls and hotels are often typical venue choices. However, an ever popular choice is to hold an event on-site. With many events and meetings occurring during working hours, this is the most convenient option for employees, as they don't have to travel off the premises. There are a couple of options when it comes to on-site planning. Tents or canopies can be erected in company parking lots or fields, creating a space completely separate from that of the work place.
When putting up a tent or canopy for an event, companies have the option of incorporating it within the surrounding buildings…
…or constructing it independently of other structures.
Within buildings, pipe and drape can be used to cover walls and section areas off to fabricate the illusion of being outside the office.
Pipe and drape can be used to section off areas in tents as well.
Furniture and Decorations:
Elevating the atmosphere from work-day to event can be a simple undertaking with the right accessories. Consider the theme/concept you have decided upon when selecting linens and centerpieces. Select from rectangle, round, and cocktailtables to construct an elegant yet easy flowing configuration.
The addition of lounge furniture, chandeliers, and tent swagging (when applicable) lend a touch of luxury to your event.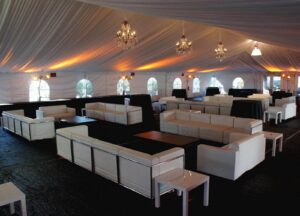 Also keep in mind your floor plan regarding a stage, chairs, podiums, speakers, etc., if necessary.
An extra set of hands:
Assign one or two people to assist you throughout the duration of the event and ensure it runs according to plan. You never know when a problem may arise and you'll want a support system in case drinks run out.