Whether you're planning a wedding, birthday party, or corporate event, chances are at some point your guests will gather together for a meal. Because of this, tablescapes are often a major focal point of visual interest, designed to reflect the theme and ambiance unique to the event. There are infinite choices and combinations of style and approaches when it comes to lending table settings personality, but a few basic structural components can help construct a great design.
Tables:
What kind of event are you having? A small dinner may call for one or two long rectangular tables, while a large wedding party may necessitate numerous round tables arranged throughout a venue. Consider your options before moving forward with the design, as various linens and tableware are often more suitable for one table shape or size than another.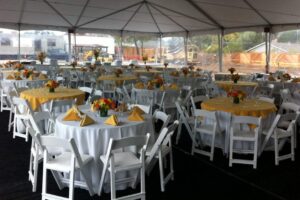 Linens:
Linens include tablecloths, table runners, napkins, and chair covers. As these selections will cover most visible surfaces, your choice of linens will be one of the first things guests will notice as they are entering the venue. What do you want their first impression to be? If you are hosting a wedding party, perhaps you would like to evoke regal elegance with gold and purple linens.
If you are holding a birthday party, maybe you would like bright pink and yellow linens for a fun and inviting look. Busier linens with multiple colors and patterns are wonderful to use as well, but keep in mind they will influence the style of tableware placed on top.
China:
China should be chosen based on type of event, as well as already existing décor. Formal and casual events should be designed accordingly, taking into account the type of food being served and the number of courses planned. As was suggested earlier, bordered and patterned china often suit linens that are not patterned, and vice versa.
Chargers are a nice way to separate the china from the linen, allowing the colors and patterns to stand out individually.
Glassware:
If it's a Sweet 16 that you're hosting, water cups will probably be sufficient in terms of glassware. Other events may require white wine glasses, red wine glasses, champagne flutes, and coffee/tea cups. Glassware often differs in style based on subtle variations of shape and pattern. Focus on how well the glassware will compliment the china and, later on, the centerpieces.
Flatware:
As with glassware, the flatware selected should be based on what is being served at the event. Having a soup course? Then don't forget a soup spoon! Difference in flatware is usually found in the color, ranging from silver to gold and brass, and the pattern of the handle. If your linens and china already attract plenty of attention, consider settling for sleek flatware with a simple design.
Centerpieces:
Centerpieces are another major focal point and there are a lot of choices to make. You can create tall floral arrangements or have long and low planters. Centerpieces aren't exclusively flowers either. Candles, baubles, crystals, pine cones, and so many other decorations can be utilized for an eye-catching creation.
Planning an event soon, but need help designing your tablescape? Contact one of our experienced Event Representatives today and get started!