The transition time between the wedding ceremony and reception is the perfect time for a cocktail hour. It allots time for the wedding party to take photos and allows time for any additional preparations that caterers and event planners may need to make for the reception. Guests also get the chance to relax and snack a little in between festivities.
A cocktail area is simple to set up and relatively inexpensive as guests are only having a few bites and a couple of drinks.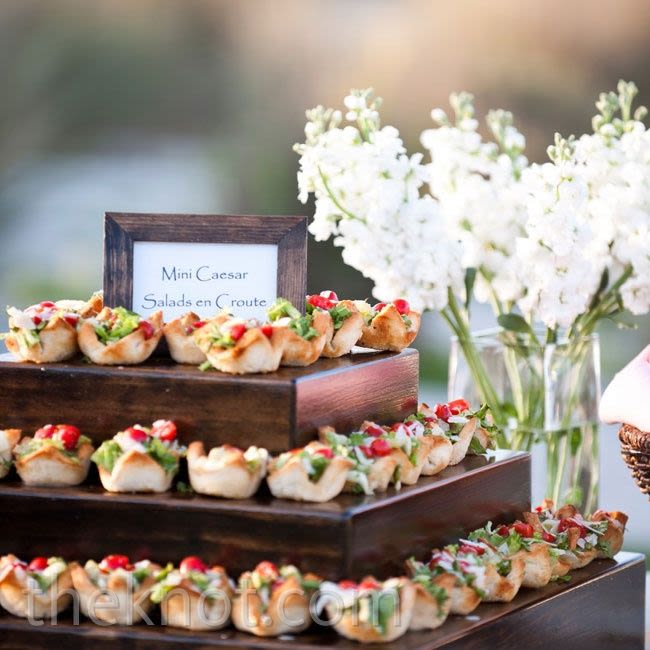 If space is tight, a single round table should be used as the food station and can be placed at the center of the area being used. If space is not a major concern, it's better to have several smaller tables, whether round or rectangular, spread throughout the room with various platters of food.
Traditionally speaking, the type of food served during cocktail hours is hors d'oeuvres, or small portions that can be eaten in a couple of bites using your hands. An extensive menu isn't necessary in this case- 6 to 8 varieties of hors d'oeuvres can easily keep guests happy as long as you include a variety of flavors.
Refer to the table below for useful hors d'oeuvres number estimates:
| | | |
| --- | --- | --- |
| Kinds of hors d'oeuvres | Number of each | |
| Party Takes Place Outside of mealtime | 5 to 6 choices | 1 to 2 of each/person |
| Party Takes Place During mealtime | 8 to 10 choices | 2 to 3 of each/person |
(via epicurious)
While you are planning the set up of your buffet tables, keep in mind a few popular ways to display the food. Buffet and serving rentals that are quite fashionable amongst wedding planners are bite size plates, sampler spoons, and rectangle ceramic trays.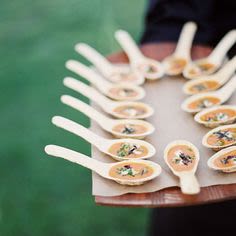 Perhaps the most important component to a cocktail hour is the bar. Two of the most popular bar types to have at such an event are fully stocked bars and signature cocktail bars. A fully stocked bar includes a wide variety of liquors and mixers, while a signature cocktail bar focuses on two or three special cocktails, plus some wine, beer, and nonalcoholic beverages. It is also far more economical of the two choices.
Once you have selected all of your beverages, ensure that you have a variety of the appropriate glassware available, as different drinks call for different glasses.
Consider renting unique styles of glassware that you don't wish to purchase. Glassware rentals are available in traditionally used styles, such as red and white wine glasses, as well as more specific styles meant for a variety of liquors and cocktails.
Depending on the wedding theme, there are a number of bar rentals to choose from for a cocktail hour. Rustic weddings tend to favor wood-inspired bars, while traditional weddings favor sleek and simple designs. For modern or unique themes, light up bars are also a fun option.
Cocktail hours should be light hearted and fairly short, so it's quite common to provide cocktail tables for guests to stand around and rest their food plates and drinks. Bar stools are also readily available, but you may not want your guests to get too comfortable sitting down before moving on to the reception.
A great cocktail hour is simple to pull off. A variety of bite-size foods will keep your guests from getting too hungry before the reception and well-stocked cocktail bar will get everyone in the mood for some dancing and festivities. By following the tips we have shared, your cocktail hour is sure to be a smooth and enjoyable success.