I had so much fun watching Brandy, from Butterfly Brides, put together these 2 table settings in our Milpitas showroom for the Hollywood Glam issue of Mocha Bride magazine. Brandy already had an idea and color scheme in mind as she carefully selected the linens, china, flatware and glassware. It was so wonderful to see how she matched all the party rentals together with such creativity. It was an even greater treat to see how everything came together with all the little details she added from the single orchid on a place setting to the menus and place cards on the day of the photo shoot. Flowers from Bloomies on Main added the finishing touches.
Here is what she came up with:
Novella Victorian Color
Palette: Black, Turquoise, Fuchsia
Photograhy by: Dan Hood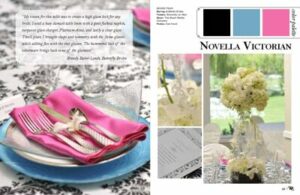 Party rentals used:
Autumn Garden
Color Palette: Brown, Orange, Red
Photography by: Dan Hood
Party Rentals used:
Linen: Lamour Copper
Napkins: Crushed Iridescent Black Cherry
Charger: Antique Copper Glass Charger
China: Da Vinci Dinner Plate, Picasso Soup Bowl, Da Vinci Coffee Cup and Saucer
Glassware: Soma Glassware
Flatware: Acropolis Gold
Great job, Brandy, on your wonderful designs and thank you, Mocha Bride, for featuring these designs.