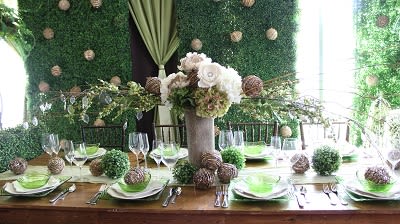 Some might think garden parties are a thing of the past. On the contrary, garden parties are back and more stylish than ever!  What was previously an occasion centered around teacups and small pastries, are now about large dinner parties with cocktails and all. Garden parties first originated in the 1860's across the pond in Britain. The Royal Family would host relaxed, informal parties held in the garden. Throughout the years, they started to dwindle. Fast forward to present day; garden parties are making a comeback. From an intimate party to a grand event, you can have a garden-themed party for any occasion and setting.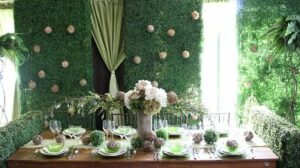 For your garden table, greenery is the main theme to stick to. You can use a traditional harvest table to start off.  The rustic look of this table is fitting with or without linens.  However, a runner can add some green tones to the look.  For dishes, bring in dark green tones with our Vertigo China. Don't be afraid to mix in other china as well. We added our Monet China to bring out other colors and details.  Take a look at our china rentals for more options.
Your table settings are set, but where can you hold your garden party?  If you don't have a garden to hold your party in, bring the garden to your venue or house by using our evergreen hedge panels. These hedges bring in the garden greenery that you need. By utilizing the different sizes that we offer, your backdrop can give your guests the feeling that they are right in the center of a garden.
Recreate this look with the following party rentals:
Harvest Table
Harvest Bench
Mahogany Chiavari Chair with Ivory cushions
Vertigo China
Monet China
Monticello Silverware
Stolze Glassware
Willow Creek Runner
Evergreen Hedge 4×8 and 4×40"
Stravinsky Olive Pipe & Drape
Don't forget to follow us on Instagram to stay up to date with all our rental news!