Summer is a great time where people love to bring out bold colors, especially for party rentals. There is nothing better than having these types of table designs in the beautiful season of summer.  In our first blog, we took our favorite Bay Area baseball teams and made it a theme for a party. In this blog, here are some colorful and bold designs for you and your wonderful guest to enjoy.
This table set up is dedicated to one of the summertime fruits: watermelon! Here we have the Lamour Fuchsia linen on top of our 8' banquet table.  To portray that watermelon look, we added the Lamour Lime napkins and the Picasso Black China. The Black Wood chair gives this a more chic look. Your guests will be drooling for some watermelon after looking at this!
Party Rentals Used:
Table: 8' Banquet Table
Chairs: Black Wood Folding Chair
Linen: Lamour Fuchsia Linen, Lamour Lime Napkin
China: Black Picasso
Flatware: Moma
This next look is something that might fool your eyes! This unique linen alternates between 2 different colors, depending on where you look at it. You can see shimmers of blue and purple in our Crushed Iridescent Mardi Gras linen on our 60" round table. The Lamour Purple napkins give more to the effect while the Gold Chiavari chairs are great accents to this table setting.  This colorful table design will be sure to bring a splash of color to your event.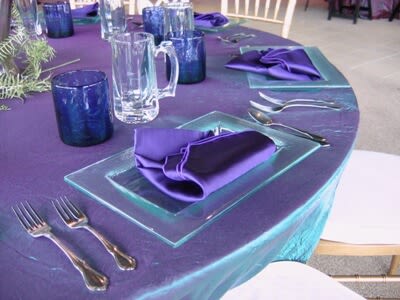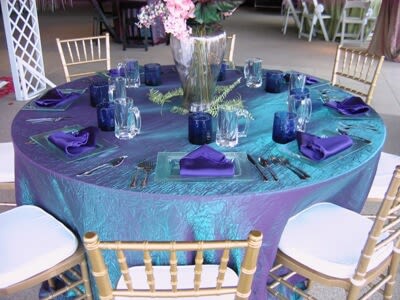 Party Rentals Used:
Table: 60" Round Table
Chairs: Gold Chaivari Chair with White Cushion
Linen: Crushed Iridescent Mardi Gras Linen, Lamour Purple Napkin
China: Rectangle Clear Glass
Flatware: Chateau
Glassware: Beer Mug, Spectrum Purple Double Old Fashioned
Having this next setup will definitely bring out the color of the sun. We have the fantastic Taffeta Golden Yellow linen on our 54" square table. This color will definitely brighten up the place. We also added Lamour Baja Turquoise napkins , Black Picasso, and White Picasso china to bring out the color more. This is a perfect setup to embrace this wonderful season!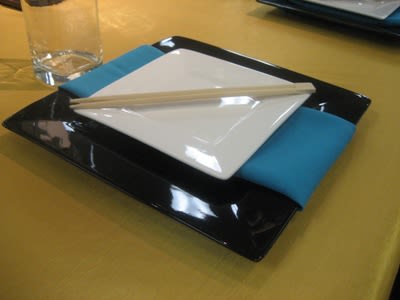 Table: 54" Square Table
Chairs: Black Chaivari Chair with Black Cushion
Linen: Taffeta Golden Yellow Linen, Lamour Baja Turquoise Napkin
China: Black and White Picasso
Glassware: Cubist Square
These table designs are perfect for summer. They are very bold and colorful and will add to the fun and excitement of your summertime party.  Check out our next blog to see what our next summer theme is!