I know I've said this before, but I have to say it again… I work with a bunch of talented people.  We recently added a new geometric glass plate, called Tivoli, to our collection of china and I was curious to see what our Events Specialists would come up with.
The Tivoli plate looks kind of like a slanted rectangle with the corners curving up.  If you turn it a few degrees, it looks like a diamond.  Here, one of our Milpitas Event Specialists placed the Tivoli plate on a Silver Lacquer charger on a Lamour Fuchsia linen.  She accented that with a Bengaline Apple Green napkin with the Erte Flatware lined up on top of that.  The combination of colors and shapes of this table setting work so well together and make this table fun and elegant at the same time.
Our accountant liked this china so much, that even she jumped in and designed a table.  Like I said, I work with a bunch of talented people.  Not only do our Event Specialists have an eye for design, but even people like our accountant has some creative ideas.
She kept the same Silver Lacquer charger under the Tivoli plate.  She really likes napkins folded to look like flowers (She loves the Lamour Scarlet linens folded to look like a rose – See our previous blog: Black is the New Brown.)  So, she decided she wanted to fold some napkins to look like water lilies.  She chose the Lamour Pink napkins and after folding it into a lily, she added a silk ranunculus flower in the middle.  To add to this lily theme, she chose our Crushed Iridescent Seaside for the table linen so that it seems like the "lilies" are floating on a pond.  Very creative!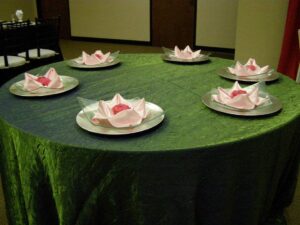 To continue this "Lilies on the Pond" theme, we used the Bamboo Folding Chairs, which really accented this table well.  To bring the color of the chairs in, she used this log centerpiece and added some green silk flowers and some lily pad leaves.  The table was almost complete except for the glassware.  When I asked her which glassware she was going to choose, she humbly told me that she's really not good at selecting glassware and this is the most she can do.
Then, what do you know… the next day I show up for work and on that table, she had put our Spectrum Green Double Old Fashioned glasses there which was a perfect fit.  And she says she's 'not good at selecting glassware'?  I think she's pulling our legs here.
Lastly, our new Panier (pronounced PAN-yer) flatware completed this Lilies on the Pond table setting.
Look for our next blog, which will showcase our Castro Valley store's designs!