Forget what Mark Twain said about summer in San Francisco. With the Bay Area heating up, take your next party outdoors to enjoy the warm weather while it's here!
Whether you're planning a wedding reception, birthday party, family reunion, or just a fun summer get-together, use this infographic and list of our most popular outdoor party rental items to help you stay on track. That way, you won't let any important items slip through the cracks.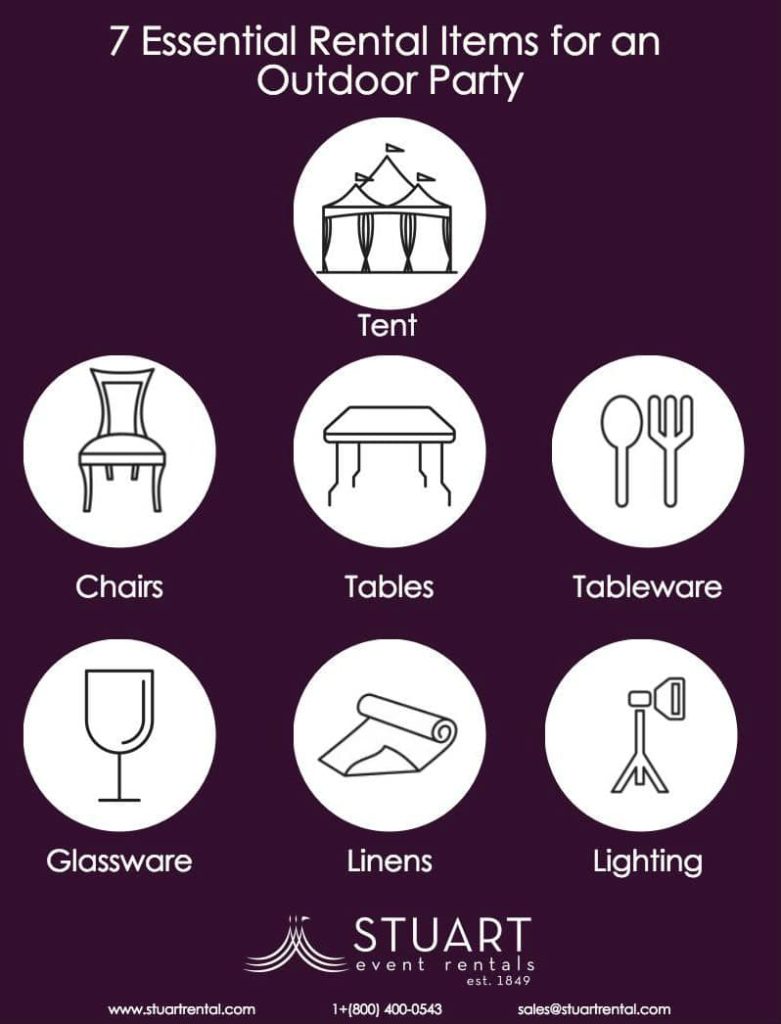 1. Tent
A large tent will provide shade and keep your guests cool even on a hot summer day. Stuart offers a wide selection of tents, including frame tents and tension tents depending on your event needs. And be sure to check out our tent types for more info on selecting the perfect tent for your celebration. Or… just call one of our Tent Specialists at 1-800-400-0543.
2. Chairs
Chairs are essential to virtually every event. Depending on the format or theme you choose, we have every type of chair you need for your outdoor party. Whether it is wood or plastic, stackable or folding… we have plenty to choose from. We even have stylish and comfortable lounge seating if you want to kick your event up a notch! Not sure what you need? One of our experienced Event Specialists can walk you through your options.
3. Tables
If you're serving food, make sure you have enough table space for all of your guests while they're eating. Select table shapes and lengths that will best fit the size and location of your event space. If you have any questions about how to make the most of your outdoor space, contact an Event Specialist.
4. Tableware
China. Flatware. Chargers. We have so many designs and patterns to choose from, you're sure to find the exact look and theme you've envisioned (or be inspired by one you hadn't thought of before). A quick visit to one of our showrooms in Milpitas, Mountain View, or Castro Valley can allow you the freedom to visually see the various combinations available.
5. Glassware
Cheers! On hot days or warm evenings, your guests will want lots of beverages during your event. Make sure to have enough glasses for every type beverage you plan on pouring — whether that is water, beer, wine, mixed drinks, or other beverages. Most of our glassware come in a variety of shapes and sizes.
6. Linens
Add color and personality to your party with beautiful table linens and napkins. We have hundreds of colors, patterns and sizes to choose from, so let your imagination run wild.
7. Tent Lighting
Don't forget the lights! Add some ambiance to your event with event lighting, especially if your party is planned for the evening or night. Browse through our Event Portfolio to get inspired with all the lighting effects we've installed over the years.
And remember… we said these items are "popular" for a reason. Call our Event and Tenting Specialists at 1-800-400-0543 (or send us a message using our Contact Page) to reserve them on the days you need before all the other summer partygoers do the same!