Themed parties are always a blast and if you are looking for a theme for your next party, you can draw inspiration from classic movies, such as Casablanca, Scarface, James Bond, Godfather, and many more. These movies have great aspects and are a great theme for a party. The low, dim lights, tuxedos, black dresses, heels, cocktails, the whole nine yards. This is a great way for your guests to dress up and be creative.
There are many aspects that are very much needed to portray a classic movie theme. One would be a vintage cocktail lounge. These lounges make the perfect setting for a sophisticated evening party. Here at The Stuart Rental Company, we make it easy for you to set up your own lounge. Creative lighting, the right décor, and the right color scheme will allow you to recreate the look and feel of Old Hollywood in any venue you choose.  Old Hollywood lounges should feel private and exclusive: dim, low-key lighting and a closed space make a setting seem more intimate. Then, rent and strategically place colored uplights that sit on the ground and shine up against a wall or use votives on tables.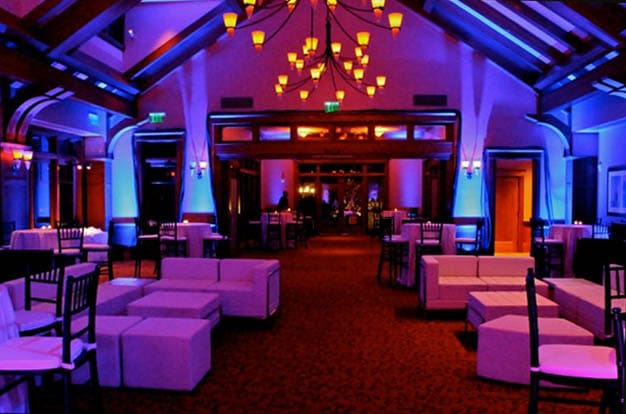 Before the popularization of night clubs, lounges were made for intimate conversation and socializing, so be sure to rent several couches and seats for guests to mingle. You can have the bar set-up at one area of the room and serve cocktails for more effect. Live music on stage can make it feel like a real piano lounge. We can provide you with stages for your performers to use, and a dance floor for your guests.
Serving cocktails that were popular back then and that are inspired from old Hollywood movies can set the atmosphere even more during your party. These drinks are easy to make, delicious, and your guests will be coming for more. Here is a list of drinks that can be easily made to serve to your guests. 9 Hollywood Cocktails for Your Oscar Party.  It's time to relive the glamor of Old Hollywood in the Bay Area.