Thinking about an outdoor party this summer?
Graduates are lining up to receive their diplomas all around the Bay Area. Parents are finishing the annual scramble to figure out what activities will fill their kids' time after the last school bell rings. Temperatures begin to creep up faster and the fog begins to burn off earlier.
All of it adds up to summer being upon us.
While winter seems to hold the season of celebrations title, summer is still the undisputed season of fun. Summer ushers in trips to the beach, family vacations, weekend barbecues with friends, and the ever-present smell of coconut-scented sunscreen in the midday sun.
To celebrate summer's arrival, what better time to start planning a fabulous party in the great outdoors?
Time to fill the warm air with the laughter of friends and family while dining and dancing amidst the beauty of summer foliage. And you don't need to be Martha Stewart to create a magical, memorable scene that your guests will remember for years to come. You simply need a little know-how and imagination.
To get you started, here are some basic considerations for creating your next outdoor party… with plenty of photos to inspire you along the way.
Location, location, location.
Of course, holding an outdoor party in your backyard is probably the easiest and most budget conscious location you can choose.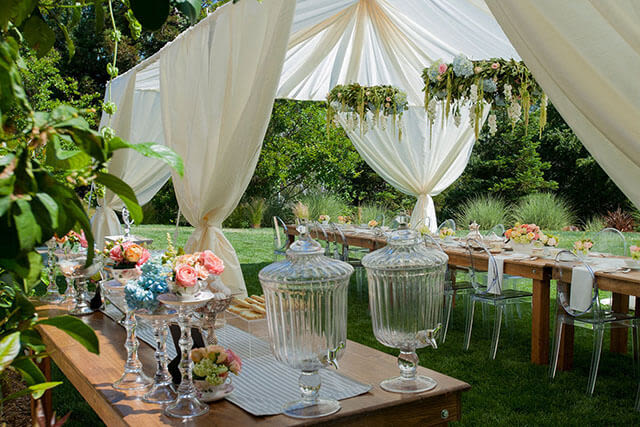 But not everyone has a large backyard at their disposal (especially not in high-density Bay Area cities like San Francisco). If you lack your own yard, you don't have to just settle for a nearby park. While being outdoors is a must, you can be as creative as your budget allows in selecting a memorable location for your event.
At Stuart, we've delivered rental products to events held in plenty of unusual and out-of-the-box outdoor locations. Here's just a few of them. (For even more, check out our Event Portfolio.)
Create unique focal points.
Leave your guests buzzing with excitement by creating unique focal points that will grab their attention from the moment they walk into the party setting.
It could be something as simple as an unusual centerpiece towering over the table (and your guests).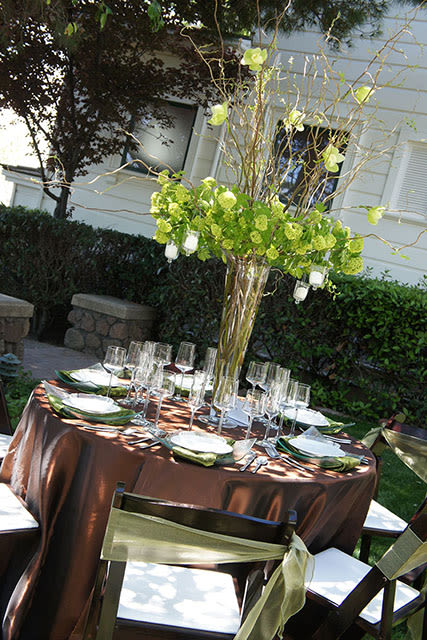 Or a visually stunning welcome piece in your entryway.
Maybe it's an elaborate display of delectable treats for them to nibble on.
You can even create an outdoor "living space" that invites your guests to gather, relax, and enjoy sparkling conversation.
Determine the time of day.
Do you want your party during the day or would you prefer an evening affair?
For daytime events, take into consideration the average temperatures of your party location. For hotter areas, you'll want to provide some shade to keep your guests comfortable. And shade can be as simple or as elegant as you want it to be.
For evening events, you'll want to plan some ambient lighting to set the mood. Colorful lights create a festive atmosphere, while twinkling lights create a more sophisticated look and feel.
Set the mood with color.
Color has the innate ability to affect your state of mind and set the appropriate mood for your outdoor party.
Looking for a fiesta atmosphere? Select bright, bold colors.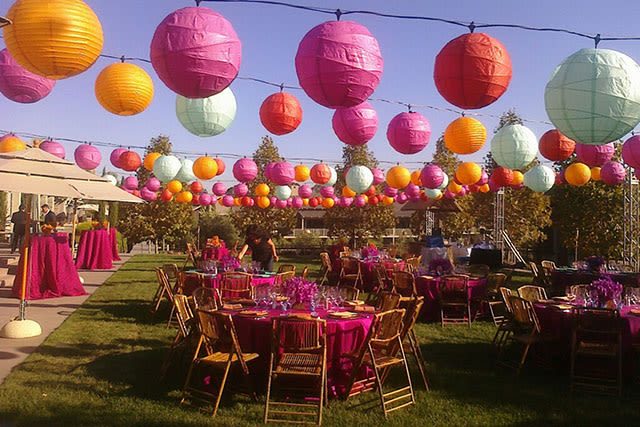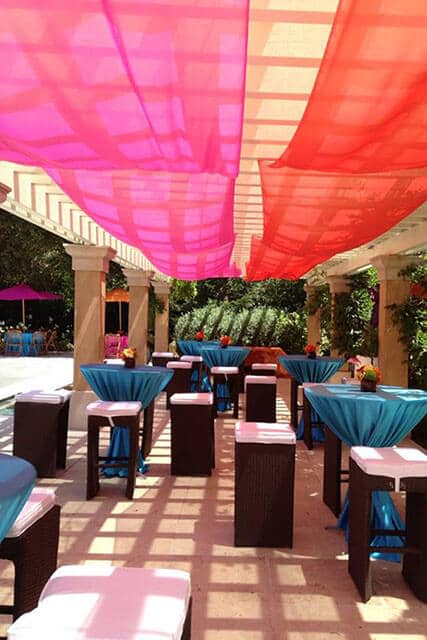 Need a more relaxed or intimate tone? Soft pastels or neutral tones could be the way to go.
Want your affair to be an elegant one? Black and white with a pop of color will likely do the trick.
No matter what color palette you choose, we have the right rental products to fit the bill.
Choose your entertainment.
Whether you want to do something simple like create a playlist of your own background music, or take it up a notch by hiring a DJ or band to get the crowd moving, you'll want to make sure you have the appropriate setup. You can rent dance floors, stages, flooring… virtually whatever you need.
Above all, get some help with your summer party rentals.
Unless you are a professional event planner, planning a party on your own can be a daunting task. Our experienced Event Specialists can walk you through the process and provide you with ideas and options based on your general vision.
So… ready for your fabulous outdoor party in celebration of this year's season of fun? Call us at 1-800-400-0543 or send us a message using our Contact Page and we'll help you choose the perfect summer party rentals that will help make your event a huge success.