Weddings are always a special time to gather family and friends to celebrate the love between two people, but they come in many different shapes and sizes.  Some couples today choose to host small, intimate weddings, as the wedding can take less time to plan, and a trimmed down guest list and contained venue offer the perfect opportunity to focus attention on otherwise easily overlooked details.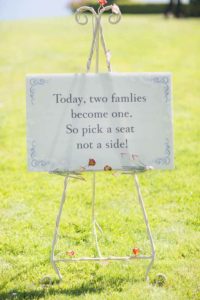 A small wedding celebration allows you to create a personal atmosphere and enjoy the day with loved ones. Treat your guests well and get them involved with the ceremony and reception. Some may not be happy with your exclusive guest list, but that's okay. Your wedding isn't necessarily the day to meet a friend of a friend of a friend. Spend less time on logistics and more time interacting, dancing, laughing, and eating with you guests.
Choosing a venue is a simple affair when you are accounting for a small group. Maybe you want to splurge on a destination wedding, or perhaps you would prefer to have the event at a special restaurant or park; somewhere meaningful and symbolic to the bride and groom.
Consider doing away with the typical formal table settings, and create an intimate atmosphere by arranging padded chairs or benches around a few harvest tables.
For the main meal, consider having it plated and served as an intimate banquet instead of having a buffet. Focus on the quality of the menu, by choosing seasonal and local foods to base your dishes around.
At larger events, you can often find cocktail tables throughout the venue to accommodate a standing crowd. You can give a comfortable twist to this custom by having celebratory cocktails enjoyed on sofas, to create a cozy space for conversations.
While you are planning your wedding, choose to direct some energy and resources towards putting personal touches into the preparations. DIY items such as centerpieces, table numbers, flower arrangements, and mementos for guests, are all opportunities to have fun and showcase your creativity. Ask siblings and friends to lend a helping hand- they will be honored to assist with your wedding and share in making memories along the way.
Planning a small wedding is a beautiful choice. A simple plan and a special guest list are the most important elements to creating a memorable day with people you love.