Stuart Rental recently had the pleasure of coming together with the Palo Alto Medical Foundation to celebrate the opening of one of PAMF's new facilities. A grand opening gala took place in the evening, and the following day a community health fair was held at the same venue. In attendance were over 400 guests including donors, doctors, and the staff of Palo Alto Medical.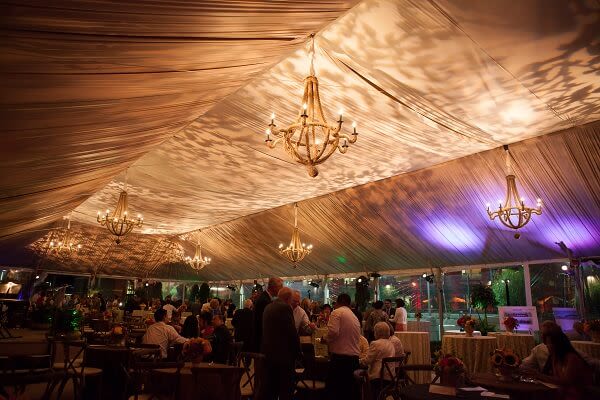 A magnificent 50×100 frame tent with custom lining designed and constructed by Stuart Rental was installed in honor of the opening gala. A rustic wine country theme was established for the event through beige Cedar Hill linens, harvest tables, and crossback hickory chairs.
The elegant theme was maintained the following day at the health fair. The tent for the gala was repurposed for the fair along with several 10×10 booths. Small round tables were draped with beige linens and accessorized with wood-framed chalkboards.
Beige market umbrellas shaded guests from the warm sunshine as they strolled through the venue or took a break at one of the numerous harvest tables to enjoy a glass of wine.
The addition of wine barrel props, wooden flower pots, and bunches of vividly colored sunflowers, orchids, and plants created a natural yet sophisticated feel. The event attendees enjoyed a harmonious occasion, elevated by the beautiful weather and wine country atmosphere. The momentous PAMF opening was indeed an indication of the prosperous future in store for the new community-centered medical facility.
Credits:
Photography by Photo3lements (www.photo3lements.com)
Event planning by Any Events and Party Productions