Scenario: You've established the date and time of your Thanksgiving celebration, put together the guest list, the menu, and the venue, but now you're thinking to yourself, how am I going to set this all up? We can assure you that after you finish reading this blog, you will know exactly what you need, and just where to find it. The following list is a compilation of must-have party rental items, exclusive to the Thanksgiving theme.
A must have in terms of practicality and convenience, so you won't have to continuously open bottles and serve guests all night. A good idea is to have a couple of beverage dispensers set up along side glassware as the guests arrive. While you're completing the final touches for the meal, your friends and family can chat and mingle over drinks.
(photo source: shop.thefoundary.com)
Mason jars have quickly become a seasonal staple due to their fun yet elegant design and feel. With their rustic appeal, wide-mouth top, and convenient handle, these jars are choice for a party with a long guest list, especially with a mixed crowd of children and adults.
(photo source: www.restaurantstore.com)
Thanksgiving is a wonderfully communal holiday, and having a long harvest table is a great way to gather everyone together. With it's lengthier than average design, along with the option of using matching benches for seating, you'll be able to accommodate many guests comfortably. The wide surface area can easily hold all of your centerpieces, table settings, and serving dishes. Consider reserving one harvest table as a children's table, and one or more for adults.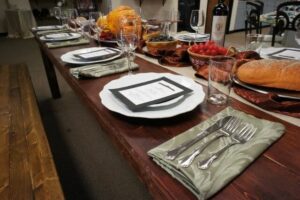 Red, gold, and orange are traditional, and beautiful, Thanksgiving décor colors. Keeping this palette in mind as you select linens for your party will help style an inviting and classically autumn theme. If your linens are to be paired with the harvest table, consider a dark red or copper hued table runner and coordinating linen napkins.
Bella Pintuck Merlot:
Bella Swirl Copper:
Selecting the right china is integral to the design process, as it is where guests will ultimately gather and eat. Amongst the vibrantly colored linens, wooden tables, and festive centerpieces, Gold Elegance china is the perfectly muted compliment, with its gently curved edges, laced with a thin band of gold.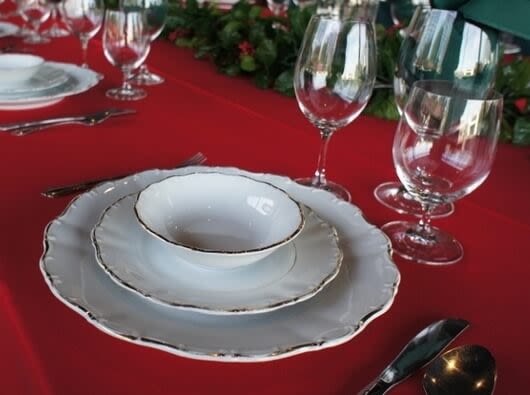 As a traditional Thanksgiving meal calls for an abundance of food, serving dishes will be more than necessary. Ceramic trays are sturdy and practical, without sacrificing visual style. White dishes are an optimal selection, as their minimalist design will not distract from the real star of the show, the meal.
With this party product cheat-sheet, it's a simple matter of adding your own personal decorative touches to achieve a warm, festive, and shared holiday atmosphere. For more tips and ideas for Thanksgiving party planning, take a look at our previous blog, "Friends, Family, and Food: A Thanksgiving Blog" or visit our Pinterest Thanksgiving board.