We hope you enjoyed our previous blog on Enhancing Your Table Settings with Runners – Part 1. In this continuation of Part 2, we can see how we can be even more creative in using the table runner to enhance your table designs.
Most people like to use table runners on top of their tables. But, don't forget, the table runner doesn't always have to go on top of the table. Here, our Monte Carlo Gold runner is draped over the edge on the front of this head table. It is anchored by the flower arrangements placed on top of the table.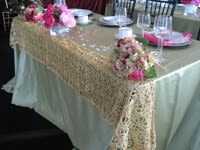 As I mentioned in my blog on Part 1, runners do not have to be constrained to just rectangular tables. Here are 3 round tables with the runners fastened to the edge of the tables, giving each table a very unique and elegant look.
This table has a lamour chocolate runner laying flat and fastened on the edge of the table that is draped with a Lamour Mocha linen.
Change up your look by gathering and fastening your runner for this scalloped look on the same table.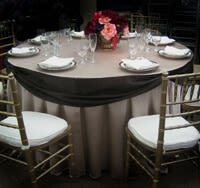 Lastly, this sweetheart table is extra sweet with our runners scalloped loosely around the edge, and finished off with a bow in front.
Finally, even though the runner's full name is the "table runner", who says we have to use runners only on tables? Here, one of our event specialists got creative and used our Lamour Chocolate Runner paired with our Organza Pink Frost Sash to tie a vertical, triangular chair bow on Pearl Chiavari chairs for this wedding ceremony.
There are still many different ways you can use the table runner to add some elegance and pizzazz to your event. Whether you have used some of our ideas above or you have some of your own, we would love to share your event pictures. Please e-mail us at [email protected] and we would love to post your pictures!