We love getting to know the person behind the gorgeous designs in our showroom, so we reached out to Miranda Meisenbach, a familiar face at Stuart Rental. Miranda is the owner of MIRA Events + Design (previously called Divine Affairs Event Design). As a professional wedding consultant, principal planner and designer, and all around event planning aficionado, Miranda brings equal parts artistry and experience to the table.
1. How would you describe your design style?
M: Attractive overall design with lots of depth and texture. I like using things in unique ways, and generally have very feminine yet natural taste.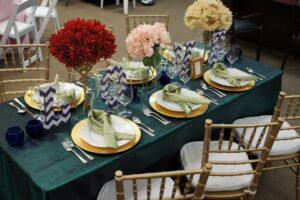 2. What was your inspiration for your most recent  table design in our showroom?
M: I have been wanting to do a neutral table with bright pops of color for a while now. I loved the concept of having this shabby chic inspired table, runner, and chairs with these amazing bright florals and napkins.

3. Is there a particular item you started with (ie linens, china)?
M: I always start with the table shape. I've been a big fan of banquet tables lately (as opposed to rounds) because I can stretch things out a lot more with them. I knew I wanted to attempt a chevron-inspired floral design (keyword: attempt. I am not a florist and those are fake flowers) so a 6 foot was the perfect match to that. After the table shape and general design outline has been determined, I decide on linen colors.
4. What kind of event/s do you see this table design being used for?
M: I like this table for an outdoor event. If we could really do the flowers right, this would be amazing as a continued long dinner table at a rustic inspired event. 
5. What kind of questions do you ask before beginning to plan/style an event?
M: I always start with practicality. There are literally millions of design inspirations out there, and if I can't narrow things down at least a little bit to start with, I will never make a final decision on anything. So we ask "what are the practical things to consider?" such as "how many guests will be at each table?" "is there a need for chargers?" "do we need to consider rain?" "what does the budget allow?" Once we have those logistical bases covered, we can really dive into the creative process. 
6. What is your favorite aspect of the work you do?
M: Hands down designing. I love coming up with a design proposal and seeing my clients' reactions to them. I spend a lot of time putting thought and personal touches into these proposals, so to have my clients not only recognize that but to be as excited (maybe even more excited) than we are is very, very cool.

7. How do you keep inspired; how do you stay motivated?
M: Pinterest. Love that site. In order to get away from a computer screen though, I try to get out to museums, browse high-end fashion stores, check out antique shows, watch concerts and other performances, go to Disneyland, and most importantly be in nature. 
8. What do you forsee trending in 2014?
M: I think we will see a lot of fusion this year of the soft, elegant, romantic trend that has been prominent in past years with the bold, graphic patterns that are becoming increasingly popular. Also, metallics are going to be huge. HUGE I say.

It was truly a treat to have the opportunity to interview Miranda. Talented, charming, and enormously passionate, we only expect continued work of the highest caliber from her. For more information on MIRA Events, visit the Facebook and website.
Thank you Miranda, for giving us a little of your time and insight!