Summer is a great time for family gatherings, fun filled parties, and eventful times with your loved ones. The days are longer, the weather is warmer, and the fun just gets better. Themed parties are a great way to take advantage of this amazing time of the year. Since baseball season is in, why not throw a baseball themed party for your favorite team!
Baseball is America's favorite pastime, so why not show some baseball spirit by having an event with your favorite team colors? Here we have 2 great looks to support your local Bay Area teams.
This look is for all the San Francisco Giants fans out there. The wonderful colors of black and orange will show how dedicated you are to the team.  We have our lively Lamour Orange Linen on top of our banquet table. We added the Taffeta Black napkins to complete the Giants colors. We also used the Bamboo Folding Chair to give that "outdoor" feel. This set up just screams "GO GIANTS!"
Party Rentals Used:
Table: 8' Banquet
Chairs: Bamboo Folding
Linen: Lamour Orange Linen, Black Taffeta Napkins
China: Tivoli Glass Plate, Picasso China
Flatware: Dali
Glassware: Guggenheim
This next look is for all the Oakland A's fans. The color combination of green and yellow linens has Oakland A's all over it. We have the Lamour Lime linens on 2 of our 8' banquet tables put together to form a large dining table. We also added the Lamour Canary napkins, placed in our Majesty Crystal glassware.  Gold china and flatware add to the yellow colors to give this look a more "Oakland A's" feel as well. When you pass by this table, you know you are in Oakland A's territory.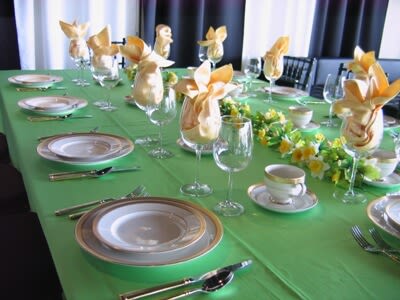 Party Rentals Used:
Table: (2) 8' Banquet
Chairs: Black Chiavari Chair with Black Cushion
Linen: Lamour Lime Linen, Lamour Canary Napkin
China: Gold Infinity Ivory China
Flatware: Acropolis Gold
Glassware: Reidel Crystal
With these baseball themed parties, you can also ask your guests to wear their Giants or A's jerseys just to keep the theme going. Have this party during your favorite team's game to create an even better atmosphere. No matter what team you root for, your guests will have a blast.