Ivory is a calming color that has the same pureness and softness as the color white.  Both colors are classic wedding colors that are very popular among brides.  Here are a few looks with ivory linens that can bring an elegant, warm, and classy look to your wedding.
The following two table designs pair up ivory and gold to form a gorgeous combination. Something about ivory and gold just blend well beautifully. This first look, designed by LVL Events, involves the elegant Lace Ivory overlay on top of our Lamour Gold linen. The gold linen just brings out the delicateness of the ivory overlay. Theresia China, Crushed Iridescent Champagne Napkins, and rustic branches and flowers were added to this vintage table design.
Next we have our beautiful Beaded Pintuck Organza Ivory overlay on top of our 60" round table. We added the Crushed Iridescent Gold Napkin to accent the table linen and give it a royal and elegant look. With the Mahogany Chiavari Chairs, Clear China, and Vanderbilt Flatware, this look becomes a simple, but eye popping set up that everyone will enjoy. The pairing of ivory and gold is just a perfect combination that you can never go wrong with.
Table Design by LVL Events:
Party Rentals Used:
Table: 60" Round Table
Chairs: Walnut Chiavari Chair with Ivory Cushion
Linen: Lace Ivory, Lamour Gold, Crushed Iridescent Champagne Napkin
China: Theresia
Flatware: Mondrian
Glassware: Majesty Crystal
Party Rentals Used:
Table: 60" Round Table
Chairs: Mahogany Chiavari Chair with Ivory Cushion
Linen: Beaded Pintuck Organza Ivory, Crushed Iridescent Gold Napkin
China: Clear
Silverware: Vanderbilt
Glassware: Traditional
In this next table, we have another ivory combination. Here we are using the color seamist to compliment the ivory linen. Using the Taffeta Ivory with Sequins overlay on top of the Seamist linen just creates a soft and colorful setting. We also added the Seamist napkins just to accent the color more. This is a very simple look, but can still catch anyone's attention.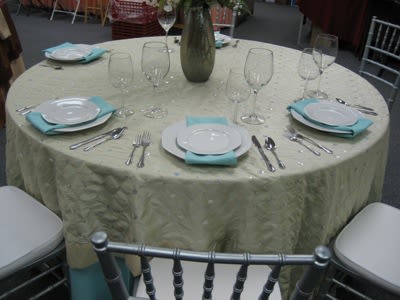 Party Rentals Used:
Table: 60" Round Table
Chairs: Silver Chiavari Chair with White Cushion
Linen: Taffeta Ivory with Sequins Linen, Seamist Linen and Napkin
China: Mirabelle
Flatware: Chateau
Glassware: Opus Crystal
Lastly, we have another great pairing: Ivory and Chocolate. The dark and rich color of the chocolate linen really brings out the softness of the ivory. This simple, but unique look includes our Organza Swirl Chocolate on Chocolate Linen and our Crushed Iridescent Ivory Napkins tied into a nice knot. This pairing just brings out the best of both colors. We also added the Empire Silverware, placed horizontal below the napkins to give this table setting more character.
Party Rentals Used:
Table: 54" Square Table
Chairs: Walnut Chiavari Chair with Ivory Cushion
Linen: Organza Swirl Chocolate on Chocolate Linen, Crushed Iridescent Ivory Napkin
Silverware: Empire
Glassware: Guggenheim