Party Rentals for Outdoor Grilling and Dining
Are you ready to ignite the spirit of Independence Day with a sizzling and unforgettable 4th of July celebration? Look no further! Get ready to host the ultimate BBQ bash that will have your guests raving for years to come.
With a range of party rentals specifically tailored to outdoor grilling and dining, you can create a truly patriotic and extraordinary experience. Let's explore the party rental products that will elevate your 4th of July-themed party and leave a lasting impression on your friends, family, and guests.
BBQ Grills and Smokers: Unleash the Flavors of Freedom
Kick-start your 4th of July BBQ bash by renting top-notch BBQ grills and smokers that deliver exceptional flavor. Imagine the mouthwatering aroma of perfectly grilled burgers, tender ribs, and succulent hot dogs wafting through the air.
Whether you prefer the classic smokiness of charcoal grills, the convenience of gas grills, or the artistry of pellet smokers, these rentals provide the foundation for a culinary masterpiece that embodies the true essence of American BBQ.
Outdoor Cooking Equipment: Master the Art of Grilling
Take your grilling prowess to new heights with the right outdoor cooking equipment. Rent high-quality grilling utensils, skewers, spatulas, tongs, and grill brushes to ensure your BBQ skills are unparalleled.
These tools will make your grilling experience a breeze and allow you to create culinary masterpieces with precision and finesse. Impress your guests with your BBQ mastery and elevate their dining experience to new heights.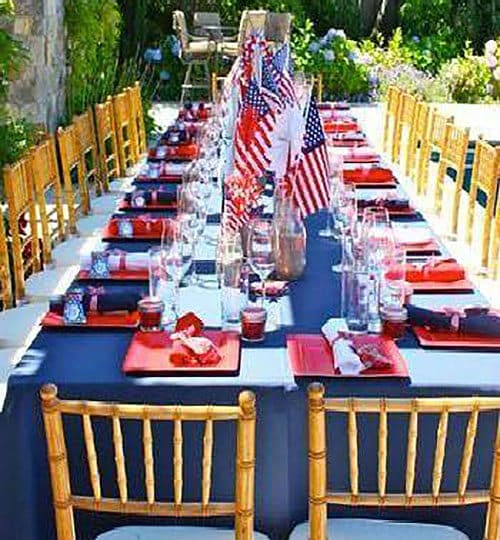 Tables and Chairs: Create a Welcoming Feast
As your guests gather to indulge in the mouthwatering spread, provide them with comfortable and stylish dining areas by renting tables and chairs. Picture rustic picnic-style tables adorned with red, white and blue linens, inviting guests to gather and share in the festivities.
Round, square, or rectangular tables, and outdoor dining sets offer flexibility for accommodating various group sizes. With the right seating arrangements, you'll create a welcoming atmosphere that encourages conversation, fun, and a sense of togetherness.
Linens, Glassware, and Tableware: Set the Stage for Elegance
Transform your outdoor dining space into a visual masterpiece by renting stylish linens, glassware, and tableware.
Adorn tables with vibrant red, white and blue tablecloths, napkins, and table runners, embracing the patriotic theme and setting the stage for an elegant dining experience.
Elevate the presentation with coordinated glassware, including beer mugs, wine glasses, and highball glasses, which add a touch of sophistication to the beverage service.
Complete the picture with coordinated plates, silverware, and patriotic-themed decorations to create a cohesive and visually stunning setting that will impress your guests.
Outdoor Bar and Beverage Stations: Cheers to Liberty and Libations
No 4th of July celebration is complete without a well-stocked and stylish beverage station. Rent outdoor bar setups, such as portable bars, bar counters, and coolers, to create a dedicated space for your guests to indulge in refreshing drinks.
Imagine an inviting bar adorned with patriotic decorations, complete with beverage dispensers, ice tubs, and a collection of bar accessories like cocktail shakers and drink strainers.
Serve up signature 4th of July-themed drinks that embody the spirit of liberty and have your guests raising their glasses to Independence Day.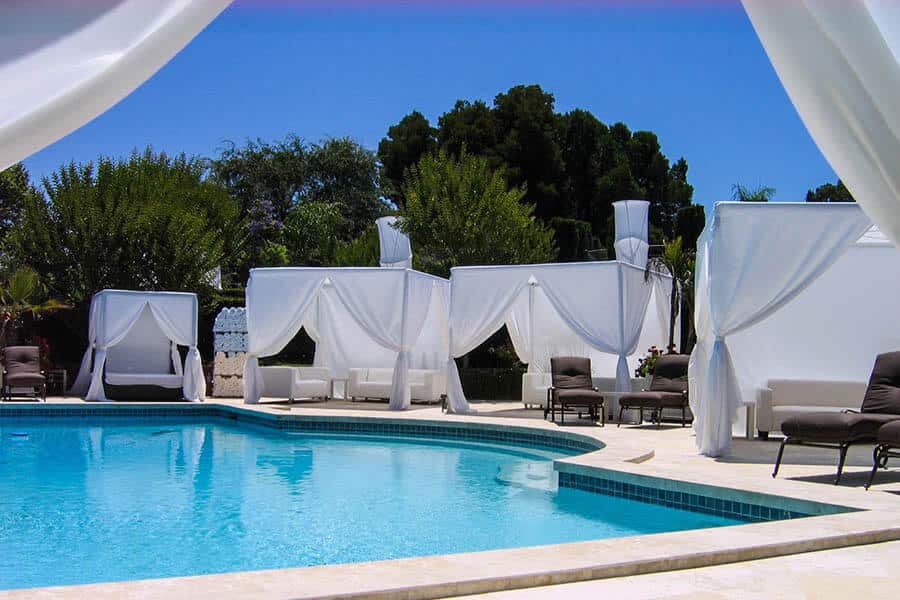 Shade Solutions: Beat the Heat in Style
When hosting an outdoor 4th of July BBQ bash, it's crucial to provide your guests with respite from the summer heat. Rent shade solutions such as umbrellas, shade sails, or canopy tents to create comfortable areas where guests can relax, cool off, and enjoy the festivities.
Not only will these rentals protect your guests from the sun's rays, but they will also enhance the overall ambiance of your outdoor space, creating a stylish and inviting atmosphere.
Outdoor Lighting: Illuminate the Night in Patriotic Splendor
As the sun sets and the evening unfolds, illuminate your 4th of July BBQ bash with enchanting outdoor lighting rentals. String lights draped across trees or overhead canopies create a magical and festive atmosphere.
Add lanterns or torches strategically placed around the seating areas to cast a warm glow. Don't forget to incorporate patriotic-themed lighting elements, such as red, white, and blue LED lights, to enhance the celebratory spirit. The combination of soft lighting and patriotic colors will create an unforgettable ambiance as the night sky lights up with fireworks.
Decorations and Props: Infuse Patriotism into Every Detail
To truly immerse your guests in the 4th of July spirit, consider renting a variety of decorations and props.
Hang patriotic bunting and flags to proudly display the colors of the nation. Set up props like vintage Americana signs, barrels, and crates to create charming vignettes that capture the essence of Americana.
Scatter festive centerpieces and table decorations featuring stars, stripes, and fireworks motifs to infuse every detail with a sense of patriotism. These rentals will transform your outdoor space into a visually captivating and immersive experience for your guests.
Unforgettable Memories Await
Hosting a 4th of July BBQ bash with Stuart sets the stage for an unforgettable celebration.
From high-quality grills and outdoor cooking equipment to stylish tables and chairs, linens, glassware, and tableware, each rental item enhances the guest experience and adds a touch of elegance.
The outdoor bar and beverage stations, shade solutions, lighting, and decorations create a festive atmosphere, while infusing the patriotic spirit into every aspect of the event!
With these party rentals, you can confidently host a 4th of July celebration that will be remembered for years to come.
So, fire up the grill, gather your friends, and get ready to create cherished memories as you celebrate the land of the free and the home of the brave.
Don't forget to contact Stuart Event Rentals for more ideas, pricing information and for all your fabulous 4th of July BBQ Party needs.