It's that time of year again! With Halloween right around the corner, you may be considering throwing a party, and there are so many fun and different approaches to celebrating this ghost, ghoul, and candy-filled holiday. Whether you're throwing a family-friendly bash or an adults-only event, here are some basics you'll want to cover to pull off a great party.
Choosing the Time & Date
Believe it or not, you are not obligated to schedule your party for the night of Halloween. Often times, it is preferable for both the host and the guests to attend a Friday evening or weekend event. It's always enjoyable to celebrate Halloween on the 31st, but as it falls on a weekday this year, there is no fault in being flexible with the date.
Theme & Decorations
First, decide what take on the Halloween theme you'd like for your party. The classic approach is a festive combination of decorated pumpkins, fake cobwebs, paper bats, and linen ghosts. Indicate the location of your party by placing carved pumpkins outside of your front door or at the entrance of your party venue and have some fun by putting up a creepy "Do Not Enter" sign. However you decide to decorate, go all out! This is the holiday for drama and over-the-top décor.
Depending on how you are serving guests their lunch or dinner, there are numerous ways to design your setup. In our showroom, Cindy designed a candy corn-themed tablescape as a creative alternative to the conventional Halloween display.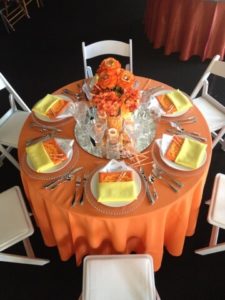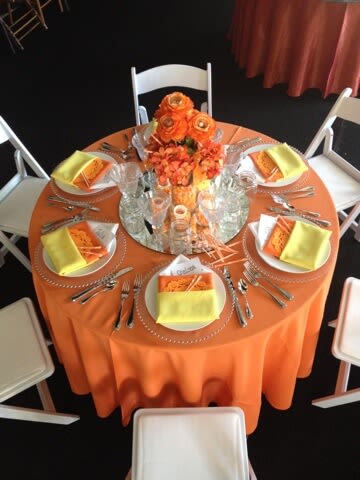 Round tables are an ideal choice to pair with a rectangular buffet table for an intimate yet casual atmosphere. White wood folding chairs contrast elegantly with the vibrant candy corn shades of the orange and yellow linens, and a simple napkin folding technique can hold goodies for your guests.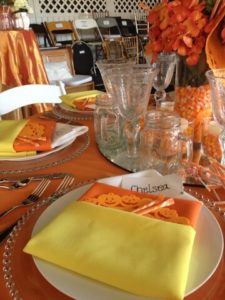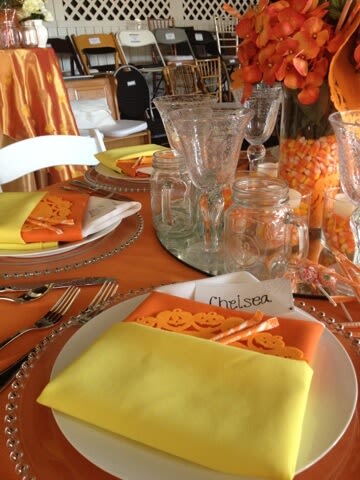 Menu
If you're inviting a larger group of guests, having a buffet will probably be the easiest and most enjoyable way for you to serve lunch or dinner. You can serve your basic autumn-inspired recipes, but there are also a multitude of creative Halloween-themed recipes in cookbooks, as well as circulating the internet. Your guests are sure to appreciate a few pastry dough wrapped "Mummy Dogs."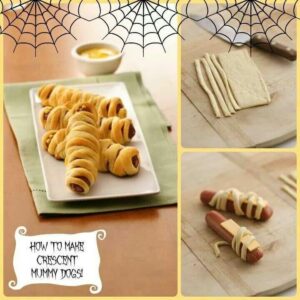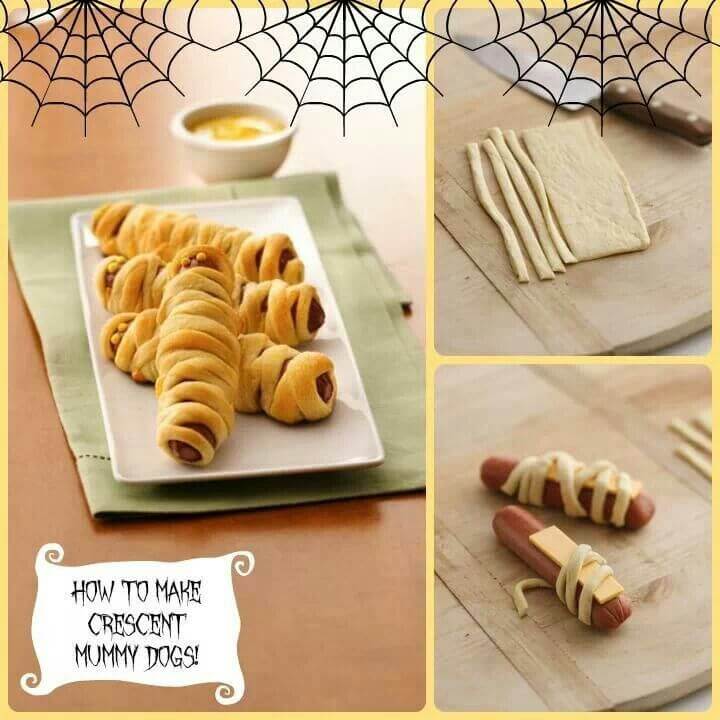 (Photos and recipe found at Pillsbury.com)
For a sweet touch, fill plenty of jars with various candies and treats and place them throughout your venue for guests to access throughout the event. As a sweet ending to the party, guests can fill up personalized goodie bags or jars full of candy to take home.
Activities
It's always a good idea to have a few entertainment plans on hand to keep the party momentum going. On your party invitations, announce that there will be a costume contest to inspire people to think outside the box with the costumes they choose and create. Select a few different contest categories and prizes to include as many guests as you choose.
Pumpkin carving and DIY crafts are two more activities that are always popular among guests of all ages. In the spirit of our candy corn theme, a fun and easy project for guests to do would be "Candy Corn Mason Jar Luminaries." These can be taken home and used to house candles, or filled with candy at the end of the party.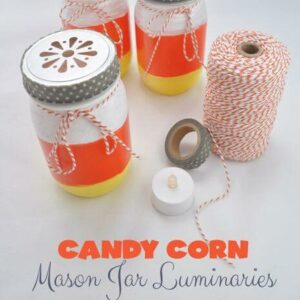 (Photos and instructions found at MakesandTakes.com)
Planning a Halloween party is an opportunity to be imaginative and original. Go all out with your decorations, plan plenty of entertainment ideas beforehand, and don't forget to stock up on treats!
Check out our Halloween Inspiration Pinterest board for more party tips and ideas