Decorating for Halloween is arguably one of the most enjoyable parts of the holiday, obligations to eat tons of candy aside. In our showroom we have some examples of the many versatile ways in which you can dress up your home or party venue this year. With a few crafting materials and some creativity, you can make your temporarily haunted mansion as spooky, or as sparkly, as you'd like.
Pumpkins:
Pumpkins are quite the staple during fall, no matter what the reason is for celebration. You can easily fill up your home with pumpkins and achieve a festive look. In honor of Halloween, you have the option of carving a pumpkin up with spooky faces and images, or you can create something directly on the pumpkin. In our showroom, we have a few glittery pumpkins, that are not only light-catching and lovely, but retain their Halloween purposes with relevant images, like bats.
Spooky Signs:
A very simple Halloween decoration tip is to create spooky and sinister signs to place around your home or venue. They are also great exterior party indicators. Chalkboards work particularly well for this decoration, as they are black, elegant, and easy to clean and reuse. Depending on where you are placing the signs, vary what you write on them. You can label your buffet table with "Poison" or place above you front door "Do Not Enter."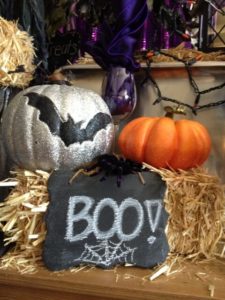 Table Decor:
As friends and guests tend to gather around tables, consider these areas to be a décor focus. There are numerous way to decorate tabletops, from swathing fake cobwebs around black linens, to the return of the simple pumpkin ornament. A combination of black tableware, hay, and fake creepy items such as plastic spiders or fingers, centered around eerily lit candelabras and candles will ensure a holiday-ready masterpiece in no time. The more dramatic, the better!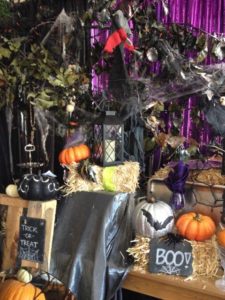 But if there's one tip that's more important than all the rest, it's this- have fun! Gather your family and friends for some feel-good crafting time and give your space a makeover it's sure to remember.