Graduation is near and everyone wants to plan an event that your friends and family will never forget. This is a time to celebrate and enjoy the successes of your loved ones' hard work. Here are some inspirations to give your party or event a little something extra for your graduate to enjoy.
Using your school colors is a great idea to celebrate your graduate's special day. Below you can see familiar school colors from different schools. For those upcoming SJSU graduates, here is a table setting to represent that Spartan Pride. Here you see the Pintuck Midnight Blue linen on our round table. For a more formal event, pair your tables with the Silver Chiavari chairs which not only make the blue linens pop out more, but adds a touch of elegance to the table settings. You can also add some yellow to give that SJSU feel.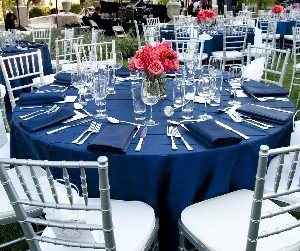 Party Rentals Used:
Table: 60" Round
Chairs: Silver Chiavari
Linen: Pintuck Midnight Blue Linen, Lamour Storm Navy Napkins
For graduates from Independence High School, we have a look to show some 76er spirit. Here we have the Lamour Scarlet linen on top of the 48" square table. We also added the Picasso China and Taffeta Aqua to complete the look.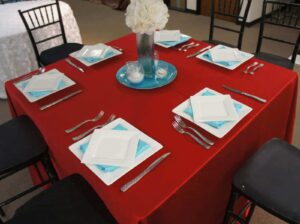 Party Rentals Used:
Table: 48" Square Table
Linen: Lamour Scarlet Linen, Crushed Iridescent Aqua Napkins
China: Picasso China
For our Santa Clara Graduates, the following table setting shows Bronco Pride. Here we have our Stravinsky White linens accented with Lamour Burgundy Table Runners. To give it more class, we added the Artisan Glassware.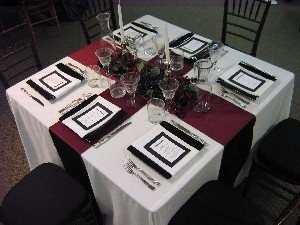 Party Rentals Used:
Table: 48" Round Table
Linen: Stravinsky White Linen and Napkins, Lamour Burgundy Table Runner
China: Picasso Black China
Glassware: Artisan Glassware
These are just some schools we picked out, but you can show any school spirit you want with a variety of party rentals. If you want to add a little bonus to your graduate's special day, Punchbowl.com has great ideas for DIY graduation desserts. Here is a graduation cupcake that your graduate will surely enjoy. For recipes on how to make this and other graduation dessert ideas, check out www.punchbowl.com!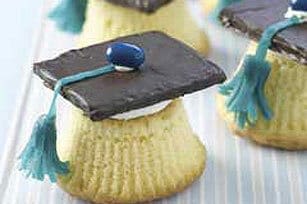 Congratulations to all the graduates for your hard work!