A Wonderful Collaboration of Wedding Pros
Stuart Event Rentals is thrilled to have its furniture and other items featured in this gorgeous wedding on Martha Stewart Weddings!
Event Rental Specialist Cori Lambert and Lead Sales Assistant Gelliah Fair got the call and went to work immediately.  Working with Andria Leigh Events and Jennifer Shapiro, they crafted a stunning ceremony and reception, as seen in the photos by Sophie Epton.
Stuart Provides the Seating
Using influences from both the Brides Persian side and the Grooms Irish, the wedding itself was a flower-filled affair.  The bride and groom sat on our Venetian Bench while hearing readings from loved ones.
Guests sat in our whitewashed Crossback chairs as they took it all in.
Beautiful Euro Inspired Linens and Place Settings
From there, the wedding party and guests continue the celebration at the "Italian French Inspired" garden party reception.  With beautiful linens from La Tavola, guests sat in comfort in our stunning Medallion chairs.
The setup was covered in a blanket of lights.  Our Venetian furniture was set up around and inside as well.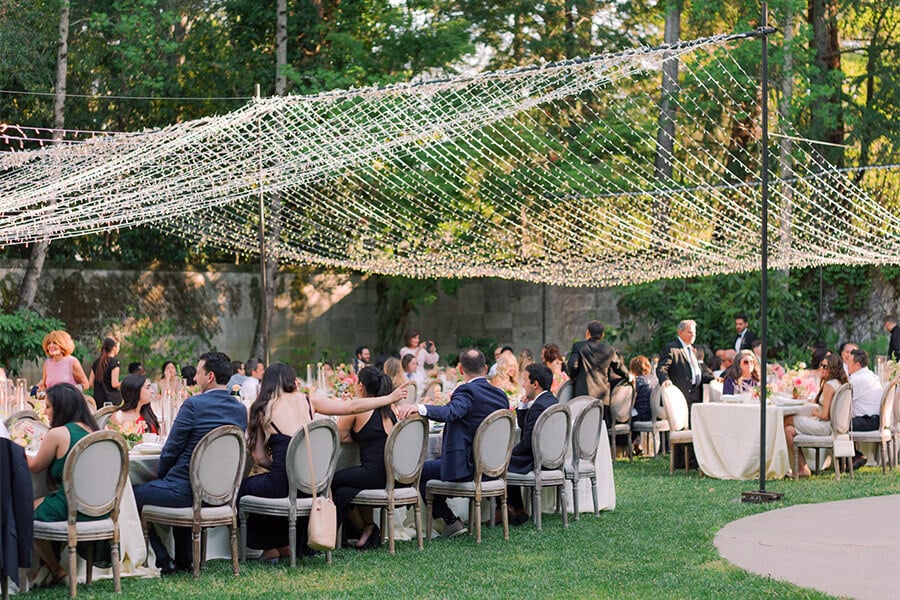 It was a beautiful affair that we are proud to say we were a part of.  Follow the link for the article and more photos and details of the event.