On a beautifully bright and clear Summer's day played the setting for The Stuart Rental Company's very own Julia Brodil and her long time sweetheart Edwin Bump's wedding. From high school acquaintances to long distance love interests, Julia and Edwin's relationship steadily blossomed into a union calling for joyous celebration. After all, what promises love more than great conversations shared over a beer? The couple has flourished and fallen in love since their serendipitous reunion at a bowling alley years ago, and their wedding was a lovely occasion symbolic of the newlywed's fun loving yet classically elegant style.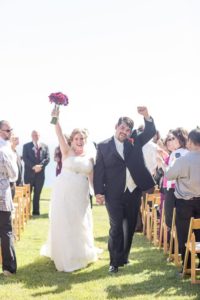 Julia and Edwin's wedding ceremony and reception was held at a gorgeous private estate, representative of their love and pride in their home state, California. Natural wood chairs lined the lush lawn of the estate for guests to view the ceremony against a stunning backdrop of the California coastline. Julia glowed in a perfectly cut ivory gown while Edwin looked proud and dapper in his handsome black suit.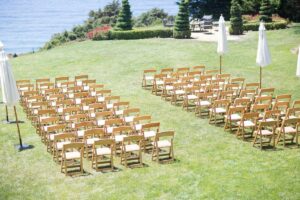 As afternoon turned to evening, the estate was created into a magnificent reception area, with splashes of warm and vibrant gem tones playing against classic ivory hues.The newlyweds sat at a table for two, surrounded by loved ones throughout the lawn.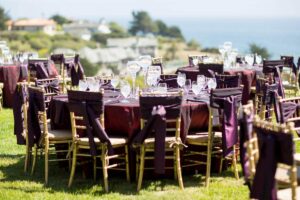 Gold Chiavari chairs stood around round tables draped with burgundy tablecloths. Richly colored regal eggplant napkins offset the sophisticated Crackle Glass candle holder and gem-strewn centerpieces.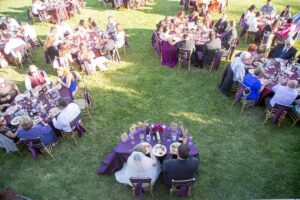 Julia's lovely sense of visual creativity was reflected by her homemade golden Mr. and Mrs. decorative letter pieces which sparkled in the June sunshine. No opportunity to express the love and care going into the Bump's wedding and marriage was missed.
Julia and Edwin's friends and family enjoyed a warm and intimate celebration full of happiness and shared memories. May the happy couple's future be full of just as much anticipation, excitement, love, and beauty as has filled their wedding day.