When we think of tents, we think about either a square tent or a rectangular tent.  But it's time to start thinking outside the box.  How about trying something different like a clear round tent?
Round tents definitely make a beautiful statement because not only do they look nice, but they are also very unique.  There are not many tent rental companies in the Bay Area that carry this type of tent.
Here are a few events we have done in the past with our round tents:
This San Francisco event took place under the Palace of Fine Arts.  Our crew was hard at work installing this tent to be ready for a luncheon the following day.  The lighting and architecture was absolutely beautiful at night, as seen through the tent.
Guests at the daytime luncheon the next day were still able to enjoy the architecture in our round tent.
This clear round tent has a unique look that is like no other tent.
Add on some ambient and patterned lighting in the evening, and you get a completely different look.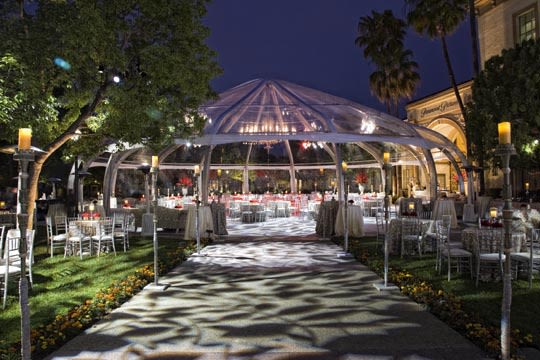 Lastly, a chandelier hung down from the center allows your event to look extra special and elegant.
Whatever shape you choose, your possibilities are endless in a tent.