Part of planning a wedding or event is making sure your guests enjoy themselves and are comfortable no matter what the weather. In the Bay Area, tent rentals play a great role in ensuring this, as well as being the perfect structure to help you create a swoon-worthy venue. Start by choosing a tent that can help you achieve the visual effect you have in mind.
Your tent's ceiling is a potential blank canvas waiting for your work of art. Consider a frame tent if you want a large, open space to work with. With this tent type, you can light up your venue and create an enchanting ambiance with:
Multiple Chandeliers
Hanging Lanterns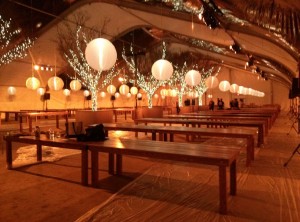 Patterned Lighting
Twinkle or String Lights
Adding a pleated ceiling liner can help hide the poles in the ceiling and give the tent an elegant look. Try adding other hanging decors such as floral garlands, glass spheres, and a variety of airy fabrics to enhance your look.
A tension tent is a good option if you want to add more dimensions to your décor. It has interior support poles that you can drape with fabrics such as silk, chiffon, and taffeta. Adding vines and branches to surround the poles can add a touch of whimsy to your wedding venues. You can even wrap twinkle lights around them for additional lighting.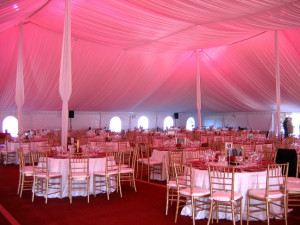 To make the most out of your venue's breathtaking views while maintaining a comfortable environment, get a tent with a clear roof and celebrate under the night sky. With your natural surroundings as your backdrop, you really don't need to add much décor. Adding string lights in a clear top tent illuminates your party like clustered stars against a pitch black sky. These string lights in the clear top tent give your environment a different feel than in a white top tent. But both have dramatic effects that will enhance your wedding day.
Having an outdoor wedding or event in the Bay Area allows you to make the most out of your location's splendid weather and surroundings. Nothing can provide a more fitting venue for other than a well-decorated canopy personalized to your event theme. This is your canvas, create your own masterpiece.