If you have selected your tent rental, determined the ceiling style, and know the theme for your event, you are probably at the point where you want to think about lighting. There are few things as beautiful about a tent as when its ceiling is brightly lit and properly styled. We have selected a few examples of our favorite, successfully lit event tents.
String Lights:
String lights look great against most tent ceilings. You can hang them tightly against the top, or sparsely if you have other light sources. String lights can be made to drape at varying degrees from the ceiling, depending on the look you want to achieve. Many event planners designing the interior of clear tents choose to pair them with string light rentals to both reflect and enhance natural light and starry skies.
Twinkle Lights: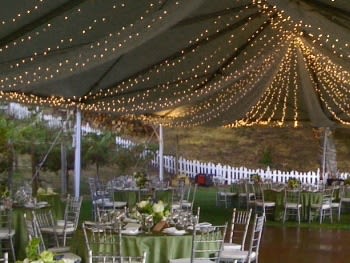 Twinkle lights are somewhat similar to string lights, but they have smaller and tighter packed bulbs. Twinkle lights can be used to create a magnificent canopy against a tent ceiling. Some choose to use twinkle lights over string lights for their ceilings if they are also using twinkle lights to wrap around pipe and drape or use between layers of voile fabric. These tiny twinkles of light add immediate appeal to most venues.]
Hanging Light Fixtures:
Many different styles of light fixtures are available to use within tents. They are most commonly hung from the center of the ceiling, meaning they will attract a lot of attention. Various hanging pendants, lanterns, and chandeliers can be used, and within each of those categories there are limitless designs. Don't be afraid to mix and match for an eclectic look, or stick to one impressive fixture style for a more consistent, sophisticated look.
Custom Gobo Lighting:

Designing a custom light to reflect onto a basic tent ceiling creates an all together different and unique atmosphere. Patterns, graphics, and initials are just a few of the many creative possibilities for this option. The color or colors of the images can also be altered based on the lights, as well as additional colored fabric on the ceiling. Gobo lighting requires a well thought out design in order to be implemented, but the results are always stunning and unique to an event.
Uplights are another commonly used lighting feature. They are placed on the floor to reflect washes of light over your tent. You can choose the color or colors representing your event to create the appropriate atmosphere.
Lighting plays an important role in setting the ambiance for a given event. It's not just about the type of lighting you want to use, but how it will work in with your tent, furniture, and other décor rentals. If you have any questions or special lighting requests, do not hesitate to contact one of our Event Specialists.