1. Create Space
A tent is a great way to designate space and create perimeters where none existed before. Tents come in all different sizes so you can get creative with the sizes and configurations you use.
We got creative with this event's tent rentals by placing the tents that housed the guests and band around the perimeter of the dance floor, leaving the center section open to create a courtyard effect.
2. Blank Canvas
One of the really great things about having your event in a tent is that you get to be really creative in your design. You start with a complete blank canvas. Then, as an artist chooses his/her colors and brushstrokes, you also get to choose your colors and how you want to personalize your tent.
Some ideas include colored lighting, drapery on the ceiling and walls, hanging chandeliers or lanterns, etc. The possibilities are endless.
3. Flexibility
Because tents come in all different sizes, you can accommodate any number of guests for your party. You can use a small tent for a backyard party or a large tent for an elegant wedding or corporate event.
4. Privacy
Tents allow you and your guests to be able to enjoy your party in privacy. Regardless of how many onlookers there are, you won't even notice them because you are behind tent walls enjoying your intimate and private party.
This event had their wedding right in their front yard with a tent to allow them privacy from the neighbors.
The bride and groom chose to use long tents as barriers to enclose their wedding at the San Jose Museum of Art to prevent other people from looking in.
5. Shelter from the Elements
Whether hot or cold, your tent is able to shield you from the elements. Being under a tent on a real hot day allows you to stay many degrees cooler. It also allows you the option of enjoying your surrounding environment by only having a canopy top without any walls or by using clear or cathedral walls. Tenting with walls and heaters also allows you to stay warm and dry on a cold, rainy day.
Rain was pouring down intermittently on this event from the outside. But, on the inside, guests stayed warm and dry without a care to the weather conditions outside.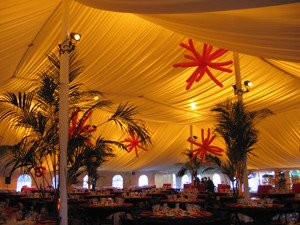 6. Focal Points
Your entire event doesn't have to be under 1 tent. If there are designated areas of your event that you want to be the focal point(s), you can use a tent as an aesthetic way of drawing attention to it.
This event had guests mingling outside, but used white and clear top tents as focal points for the lounge areas.
Tents are not only constrained to the outdoors. We swagged this canopy with fabric right above the dance floor inside a large building.
There are definitely many great reasons for renting a tent and many beautiful locations in the Bay Area for tent rentals. We hope this has given you some ideas to get you started in planning your next tented event!
Check out our tent gallery for some more tenting ideas.