As you gather your friends and family together to celebrate Easter, try this new idea from Cindy, our Event Manager in our Castro Valley showroom. She put clusters of (3) 30" round tables together and put different pastel colored linens on each table.
She then chose bright colored napkins in the Crushed Iridescent and Lamour fabrics and put them in Iced Tea Goblets. Each table had an Eternity Stripe Pistachio sash used as a runner to accent each table.
Below is a picture of one of the table cluster, which used Pink, Buttercup, and Lavender linens: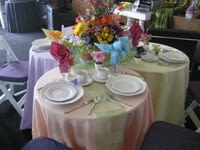 Here is the other table cluster, which used Pink, Cornflower, and Sea Mist linens:
Cindy used our Mirabelle china and Dali flatware for her table settings. She chose White Resin Folding Chairs and put a Midnight Purple Chair Cushion on each chair. Colorful flowers and Easter decorations complete the look.
A fuchsia butterfly rests on our Mirabelle dinner plate, bringing in the feel of spring.
We hope you've enjoyed Cindy's colorful creations. Have a wonderful Easter!