DIY a.k.a Do-It-Yourself projects are always fun to do and will save you a ton of money! You can include your own personal style into your projects to make each party more personal.  A great DIY project to work on for your next event is centerpieces. Centerpieces are a great way to grab the attention of your guests and set the feel of the table, especially if you are hosting a themed party.
Creating a centerpiece for a specific theme can be fun and exciting. For example, here is a table design with inspiration from the classic story, Alice in Wonderland. Using the Black and Grey Checkered Linen with our Lamour Scarlet runner, your guests will notice the look automatically. To give a more Wonderland effect, you can create a centerpiece catered to the theme.  Adding different items such as playing cards in table number holders all over the table, a Mad Tea centerpiece using crazy hats, or adding a variety of tea cups will enhance your event. You can get creative with the chairs as well.  In this table design, we alternated the White and Black Bistro Chairs to compliment the linen.
Party Rentals Used:
Tables: 8' Banquetbr
Chairs: White Bistro Chair, Black Bistro Chair
Linen: Black and Grey Checkered, Lamour Scarlet Runner, Red Napkin
China: Tea Cups & Saucers: Gold Infinity, Vienna, Gold Band, Theresia
Glassware: Spectrum Ruby Double Old Fashioned
Additional Rentals: Silver Coffee Server, Silver Creamer & Sugar, Silver Tray, 2"H Number Holder
Another great way to make a DIY centerpiece is by incorporating your food as a part of the centerpiece. This is a great way to save money and minimize the amount of tasks for your party preparations.  For example, you can use the different dishes as part of the centerpiece.  Rather than having individual entrées for each guest, you can have the meal be family-style where all the dishes are placed on stands in the center in an artistic arrangement.  Your table settings will look ravishing! Here we have a table design using the dessert as a centerpiece. We put cupcakes on our 3-tiered stainless round tray and used it as a centerpiece. The cupcakes compliment the Kensington Porcelain linen and the Organza French Lavender sashes. To add more effect to the centerpiece, we also added flowers in our Stainless Champagne Cooler.  This is a quick and easy way to brighten up your table, plus let your guests have easy access to the dessert! You can use an array of food such as appetizers, fruit, or cocktails as your centerpiece.  Anything is possible, just be creative!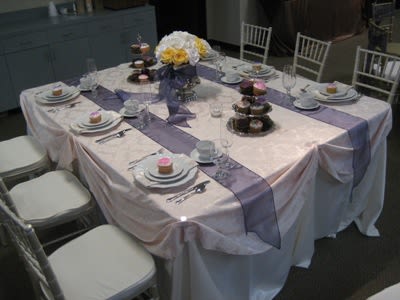 Party Rentals Used:
Tables: (2) 8' Banquets
Chairs: Silver Chiavari Chair with White Cushion
Linen: Kensington Porcelain Linen, Organza French Lavender Sash
China: Theresia
Flatware: Chateau
Glassware: Traditional
Additonal Rentals: 3-tiered Stainless Round Tray, Stainless Champagne Cooler
Lastly, here is another very simple way to enhance the look of a table. Using simple products such as flowers, candy, stones, or even jewels in a bowl can be used as a great centerpiece. Below you will see that we took our simple bubble bowl and added flowers to bring together the whole look of the table. You can use an array of items and colors to match the table. Since we used the Lamour Canary linen and the Lamour Kiwi napkins for this table setting, we used green and yellow flowers for the centerpiece. This is a straightforward, but attractive centerpiece that is very easy to implement.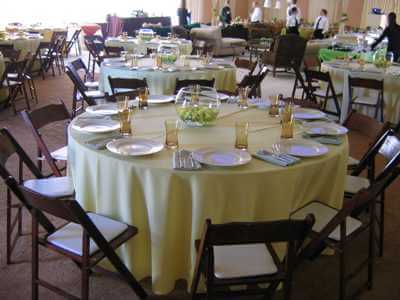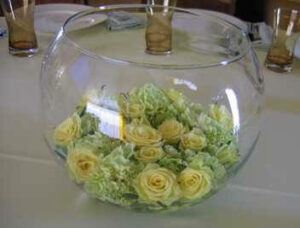 Party Rentals Used:
Tables: 60" Round Table
Chairs: Mahogany Folding Chair
Linen: Lamour Canary Linen, Lamour Kiwi Napkin
Additonal Rentals: Bubble Bowl
DIY projects are really fun to do, and you can be really creative with it. There are so many things that you can do; the sky's the limit! Not only will your guests be surprised by your amazing projects, but you will also save a lot of money, killing two birds with one stone. You are also in control of what goes on each table. Just don't forget the number 1 rule: have fun!