Spring is upon us and this tea party setting is the perfect theme for a children's birthday or celebration! Start your table setting by choosing children-sized table and chair rentals.  These furnishings are smaller in size and height and perfect for the little ones.  We chose a 6' children's table that seat 8 children comfortably.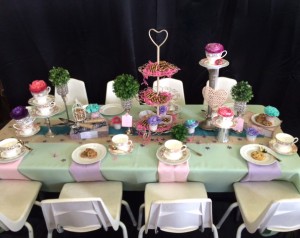 To begin our Spring tea party theme, we  chose our Mint Green linen; pastel linen rentals are perfect for this season.  Our Cedar Hill Table Runner, placed down the middle of the table, adds just the right amount of texture.  Runners can also be accented with ribbon to incorporate additional colors.  (Tip:  For more casual events, we often recommend using our plastic table cloths for kid's tables in case of spills or arts and craft activities.  They come in a variety of colors and are disposable.)
Our Victoria China perfectly complements any tea party setting. We love the idea of mixing cup and saucer colors for a unique contrast.  Running down the table, we have layered tea cups and saucers for a pop of color and dimension.  Feel free to grab random accessories from around the house to use as a base for the tea cups. For example we used books, candlesticks, and small metal garden buckets to add different levels of height throughout our table.
This setting also features a new addition to our buffet and serving rentals, the new Antique 3 tier trays are just right for a rustic or vintage theme.  We love repurposing things for our tablescapes. Notice the Easter grass works perfect as a filler for our tray. We also used tissue paper as an alternative to floral centerpieces.  Making tissue paper flowers is a great craft for kids and looks great on your table!  Learn how to make these simple décor items by following the tutorial below.

Featured Rentals:
6ft children's table
White Children's Chairs w. White Legs
Mint green linen
Cedar Hill table runner
Vienna salad plate
Sophia teaspoon
Victoria Cup & Saucer
Antique iron 3 tier tray
Tissue Paper Flower Tutorial:
1. Stack squares of tissue paper and accordion fold the paper.
2. Staple or wire wrap the center of your paper.
3. Carefully fan out tissue paper and slowly pull each sheet of paper toward the center.
4. Fluff and Place around Table!
We hope you have been inspired to design your own tea party.  Follow us on Pinterest for more Children's Party inspiration!