When hosting an event, china, flatware and glassware rentals are necessary not only for functionality, but they can be used to enhance the look of your table as well.  Many people choose different types of china to match their table or put napkins on the place settings to decorate it. Here are some great examples of additional details to add a little touch to your china. These simple, but bold statements can create a whole different look for your table designs.
Here is one look that was designed by Sharon Yap Design where our gold china, chargers, and flatware were used. This table shows a brown ribbon and a butterfly tied around our Lamour Kiwi Napkin. The ribbon and butterfly creates a beautiful piece to place on top of your china. These butterfly accents were also added in other areas of the table setting such as the coffee cup, glassware, and centerpiece. The curly willow branches continue this nature theme. This is a simple way to make your table look a little bit more elegant.
Party Rentals Used:
Tables: Glass Round Table
Chairs:  Pearl Chiavari with White Cushion
Linen: Lamour Kiwi Napkin
China: Da Vinci
Charger: Hammered Gold
Glassware: Guggenheim
Flatware: Acropolis Gold
Another way of spicing up your china is adding a little gift on top. Putting a little gift on top not only is a great way to thank your guests for coming, but at the same time makes your tables look good. Below you can see a small and cute gift wrapped in a nice bow on top of our Picasso China. You can most definitely play around with this, matching the color to your table or using a contrasting color to accentuate the table. You can add a little thank you note, giveaways, chocolates, or a small gift inside the box. This is not only a simple detail that you can do, but it will also get your creative juices flowing.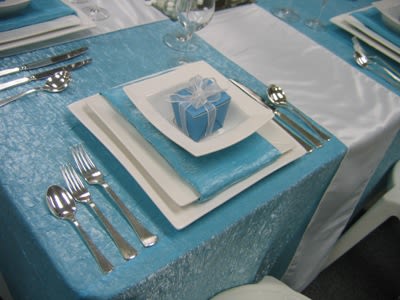 Party Rentals Used:
Tables: 54" square table
Linen: Crushed Iridescent Aqua Linen and Napkin, Lamour White Table Runner
China: Picasso
Glassware: Opus Crystal
Silverware: Empire
Lastly, we have another great idea to bump up the level of your china setting. On our previous blogs, we explained that adding floral is a simple, but great way to make your table look nice. For this table design by Crème de la Crème Events, Laura used a simple old fashioned glass as a pot for these pink hyacinth plants that the guests can take home with them after the event. Besides using  different types of  containers for your plant, a great idea to implement would be to create something edible at the base. You can wrap the bottom of the plant in plastic wrap, and then use chocolate cake, cookie crumbs, or chocolate as dirt. You can also add some gummy worms for more effect. Your guests will have a little fun with it and so will you.
Party Rentals Used:
Tables: 60" Round table
Linen: Pintuck Silver Linen, Lamour Fuchsia Napkin
Chairs: Silver Chiavari Chair with White Cushion
Charger: Silver Lacquer, Silver Hobnail
China: Imperial Platinum, Silver Band
Glassware: Riedel Crystal
Flatware: Vanderbilt Silverplate
These are very simple ideas that you can do it yourself  to enhance  your table settings.  With a little bit of hard work and creativity, you can have fantastic table designs to 'wow' your guests.   Just remember, have fun with it!