After you set up your table with china, silverware, flatware, glassware, napkins, linen, etc., you can still add some small DIY details to add interest to your table settings. By just adding these small details can bring your table design to another level.
Flower Accents
Here we have some DIY projects than can enhance your table settings.  One idea is simply to put different colored flowers on top of your china. Below, we have our Picasso China on top of our Lamour Scarlet linen.  Here we added a few flowers with a beautiful Asian inspired sleeve for the chopsticks and menu card to bring out the Asian theme.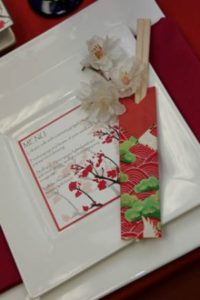 Party Rentals Used:
Linen: Lamour Scarlet
China: Picasso
Here is another example of adding flowers to your table design. This table features our Taffeta Fuchsia linen, Lamour Canary Napkin, Picasso China, and our Silver Chiavari chairs. For this baby shower event, we took a small glass vase and added a pink Gerbera daisy to accent the table.  Doing these small, but detailed projects can make the table explode with style.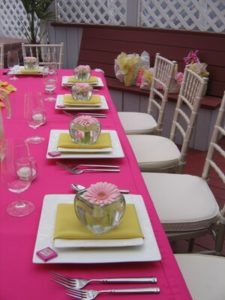 Party Rentals Used:
Table: 8' Banquet Table
Chair: Silver Chiavari Chair with White Cushion
Linen: Taffeta Fuchsia Linen, Lamour Canary Napkin
China: Picasso
Glassware: Riedel Crystal
Flatware: Erte
Food Accents
Another great DIY project that can easily turn a table into something more is the addition of food on the table. Using food as part of the table design is not only a very effective way to save money, but can make the table look tantalizing. In the first look, we used lemons to complement the Taffeta Fuchsia linen on our Picasso China. This is a simple element that is easy to implement. You can use fruit in many different ways such as having mixed fruit as the centerpiece or using a watermelon or pineapple hallowed out to hold your food. This is a really easy way to bring the level up on each of your table designs.
Party Rentals Used:
Table: 60" Round Table, 27" Triangle Cocktail Table
Chair: Pearl Chiavari Chair with White Cushion
Linen: Lamour Fuchsia Linen, Lamour Primrose, Napkin, Organza Pink Frost Sash
China: Picasso Triangle Salad Plate
Silverware: Tuscany
Another great DIY project is using desserts as part of your table design. This is a great way to keep your wallet fat and your table looking nice. Below we used a simple cupcake, added a few sprinkles, and placed it on each plate. You can use different colored sprinkles, batter, or frosting to complement the table. You can put the cupcakes or the dessert of your choice on tiered trays and use that as a centerpiece as well.  This is not only easy to do, but you can also have fun with it!
Table: King's Table
Chair: Pearl Chiavari Chair with White Cushion
Linen: Kensington Porcelain Linen and Napkin, Sparkle Organza French Lavender Sash
China: Theresia
Glassware: Traditional
Flatware: Chateau
These DIY projects are really easy to do, don't take much time, and are cost efficient. Something small and detailed can set the table and make it become one of the highlights of the party. Check out next week for more DIY projects.