You've probably just wrapped up your Thanksgiving festivities, but with the blink of an eye, Christmas will arrive, and there's no time like the present to get a jump-start on your party rental plans. It may the busiest time of the year for most party companies and planners, so keep this in mind as you determine your timeline.
The following collection of suggested rental items are grouped together to inspire a holiday gathering more elegant than the average affair. Christmas is an opportunity to pull out your best china, lay down luxurious linens, and decorate with sparkling lights. It doesn't take much to elevate a basic event design to a stunning night to remember, all you need are a few special additions here and there.
Sampler Spoons and Bite-size plates:
Sampler spoons and hand sized plates introduce a novel take on the appetizer portion of the evening. As guests trickle in, they have the option of choosing from a selection of appetizers that are portioned out ahead of time. This benefits the event in several ways; guests can easily move around, unencumbered by large plates, the small portions ensure that guests will still have an appetite for dinner, and the sleek look of the samplers provide an elegant opening to the evening.
Curved SS Sampler Spoon:
Ceramic Chinese Spoon (credit to Black Tie Desserts):
Bite Size Plates (credit to Bed, Bath, and Beyond):
If you are inviting more guests than can fit around one dining room table, setting up several round tables at your venue is ideal. Round tables can each seat from 4 people to 10 or 12 people and range from 30" to 72" in size. There is something aesthetically pleasing about a well-designed table plan, and the curved tables are preferable to rectangular, given a large group.
Linens in rich shades of red and dark green are classically used, and understandably so. With a beautiful, eye-catching tablecloth, it's nearly impossible to have an unattractive tablescape. Amongst our wide selection of linens, a couple of our festive favorites are Brocade Ruby and Eternity Stripe Ruby Red.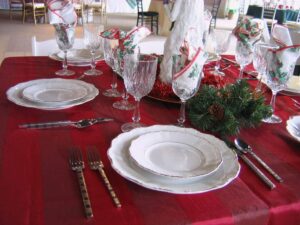 The epitome of elegance, this glassware set will compliment, but not detract attention from, the rest of your décor. The Stolzl Crystal line is simple with a clean design and classic shape. Fill your glass up with wine, water, or sparkling cider, and toast to a wonderful holiday with loved ones.
The Da Vinci China is a unique and striking set with thickly designed gold borders. This china adds a note of warm luxury and goes very well with dark red and green linens or centerpieces. From the first course, to after dinner coffees, this set will serve you in style.
Tall and slender, these vases bring a modern touch to the tablescape. Fill them with tall branches and flowers to balance the opulent décor with some earthiness.
Want more style ideas? Visit our Christmas-themed Pinterest board and keep an eye out for more helpful holiday blogs!