Have you noticed the change in the air? There's a refreshing crispness in the weather, a delightful scent of fireplaces being used in the evenings, and the tell-tale abundance of apples and gourds at the market. You can probably guess what the clues are hinting…Thanksgiving is upon us! As the perfect kick start to the holiday season, Thanksgiving is an opportunity to reflect upon that which is most dear to us- family, friends, and delicious food. Choose to leave the stress behind with this year's Thanksgiving party tips. Reserve plenty of time for preparation, recruit some helpers, and don't lose sight of the holiday magic.
First, you'll want to think about your guest list. Thanksgiving is a "take a holiday" kind of weekend, so send out your invites several weeks ahead of time to get a good idea of how many guests will be attending. Homemade cards are a lovely way to extend an invitation, but for those who are crunched for time, an evite is just as acceptable in this digital age.
(Custom invitations found on Etsy)
Invitations are the perfect way to establish your party's theme and atmosphere, long before your guests step into your home. Think about coordinating your invites with the décor, linens, or centerpieces. The card shown above would wonderfully preview what's to come when complemented by orange chevron linens:
What kind of party venue have you chosen? Whether it's your home, a restaurant, or a private club, you'll want to ensure that there is plenty of space for you guests to sit and eat, as well as stand and mingle. Soon after establishing a head count for the party, place a rental order, if necessary, for tables, chairs, glassware, china and flatware. It's a busy time of year for the event industry, so make sure you're ahead of the rush and have a full selection of products available to choose from.
When it comes to Thanksgiving décor, there's a certain vibrant simplicity in the theme that makes decorating a pleasure.
(Table Design by Amy Frugoli of Twitterpated Weddings)
Step out into your backyard, or take a walk. Collect different colored leaves, pinecones, and branches. Fill up various vases and jars with these items and admire your new centerpieces.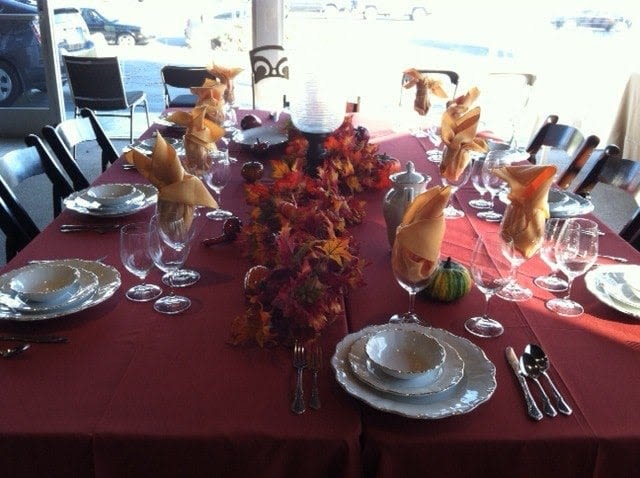 Cover your tables with linens in rich autumn hues, such as red, orange, and gold, which will warm up the atmosphere.
Regarding the Thanksgiving menu, there are a million and one methods to getting the job done. The most important piece of advice to follow is always this- plan ahead! If something doesn't go as you anticipated, you've given yourself some room to improvise. Go shopping before the crowd sweeps through and doesn't leave a single can of pumpkin, give your turkey plenty of time to defrost, and don't shy away from asking guests to bring a dessert or side dish. They will be happy to contribute.
On the day of your event, prepare some ciders and festive cocktails to serve as your guests begin to arrive. Light candles for a pleasant glow and allow everyone to mingle and settle in before announcing the commencement of the holiday meal. Indulge in the tradition of going around the table and sharing what you are thankful and grateful for.
Thanksgiving is one of the rare holidays that succeed in bringing friends and family from all over the map together. Take your time conversing with them all, share stories, take pictures, and create memories that will last until it's time for the next Thanksgiving. Finish off with a nice slice of pie, you deserve it.