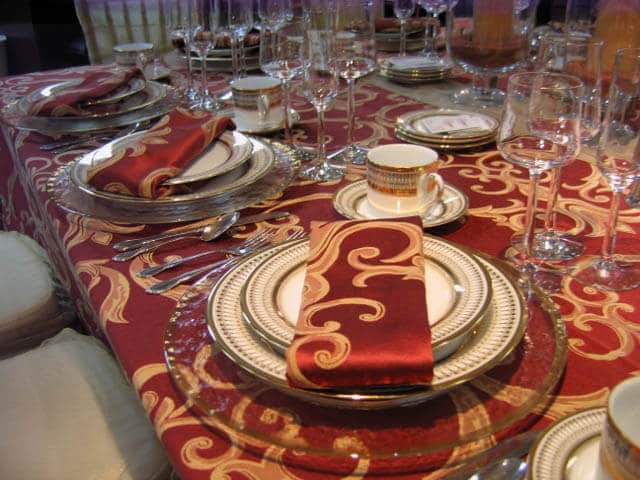 Hosting a Thanksgiving party for your family is simple once you have everything planned ahead. If you have a big or small family, tables are most important. Take a look at our previous blog for information about choosing the right table for your party! After picking out the table, the next party rentals to pick out are china, flatware, and glassware. We have an amazing selection of these items. Our Baroque china or Da Vinci Gold china are wonderful choices for the holidays. Choose an item that will enhance the look of your Thanksgiving party!
Food should be the next in line. What is Thanksgiving without the delicious food? You can prepare all the food for the party yourself or make it fun by asking your family members to each bring a dish. To change up your Thanksgiving meal, you can even have different themes for your meal.  For example, you can do an international Thanksgiving dinner where each person has to bring an ethnic dish.  This is a great way to try different types of food that each of your family members love to eat.  Or use non-traditional Thanksgiving colors and create a grand buffet line.
If you are making most of the food, allrecipe.com has some great recipes for Thanksgiving. They have delicious recipes from asparagus with cranberries and pine nuts to delicious pumpkin pie. If you are serving a lot of family members, we have rentals that will make that easier. We carry great chafers that can hold and warm a lot of food, beverage dispensers for your sweet tea or punch, cake stand for that delicious pumpkin pie, and trays to hold your succulent turkey. These items will surely help you hold and serve your scrumptious food to satisfy your family's stomachs.
Lastly, wondering what to do after dinner? A great way to enjoy your family's presence is to go around the table and say what you are thankful for.  This is a great way to encourage and be encouraged by your loved ones.   Another great way to incorporate each family member is to have a competition with each individual family. Each family can play different games such as charades, board games, karaoke, football or any other games that will have each family team participate in. Keep score and whichever family has the highest score wins!
Thanksgiving is a great time for you and your family members to enjoy each other's company and be thankful for each other. Although there are a lot of preparations involved in planning your Thanksgiving gathering, make sure to have fun this holiday season and take time to enjoy it.  The planning and tasks are important, but enjoying time with your loved ones is even more important.   The Stuart Family wishes you a Happy Thanksgiving!