With the wonderful season of Christmas upon us, we would like to give you an inside look at the versatile tablescape styles that Cindy has whipped up in our Castro Valley showroom. Whether you're starting your decorating strategy from scratch, or you'd like to add a few festive touches to already existing plans, the next three designs we're sharing range from modern and bright to traditional and elegant. If creativity is running a little low this year, take a few notes from our showroom- it can be surprising what a few thoughtful details can do to transform a party.
Modern, Fresh, & Fun:
How about seating your guests at a table reminiscent of a gift? By laying down two golden strips of linen over a red tablecloth, the illusion of a round present comes forth. The classic red, green, and gold holiday palette gets an updated look with Vertigo Emerald china and Artisan glassware.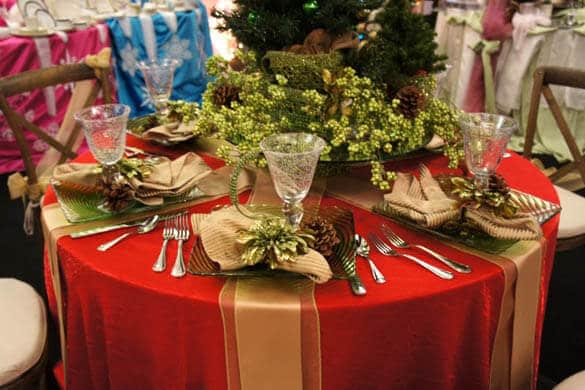 The mixture of solid and striped linens, swirl-patterned china, and flatware creates a pleasing combination of patterns and textures. Centerpieces of foliage, flowers, and pinecones contribute a breath of natural beauty to the overall design.
Rustic & Cozy:
The ever-popular Harvest table makes another appearance, and this time it's a holiday edition. The exposed wood of the table contrasts beautifully with a red or green table runner. Cherry lacquer chargers rest beneath Victoria Clover china, with carefully detailed Monticello flatware lying alongside.
Elegant Schott Zweisel crystal glassware leads the glance to an extravagant centerpiece of branches, leaves, and golden baubles, running across the length of the table. Warm burgundy, forest green and bright gold is a classic holiday décor combo that never fails.
Traditional & Elegant:
Gold and red are the star colors of this tablescape. Our Aurora Honey linen is draped over a round table. The beautiful golden details crossing the linen's entirety catch the light and sparkle. Gold-bordered Da Vinci china is placed on top of alternating Hammered Gold and Gold Centric Lacquer chargers. Acropolis Gold flatware lends a sense of symmetry to the otherwise curled and swirling designs.
While there may not be such a thing as too much gold, red linen napkins give a pleasantly bold pop of color. Schott Zwiesel Crystal glassware is the final touch to this lavish tablescape.
These table designs are wonderful templates for your own holiday party ideas. Replicate them for a stunning display or take bits and pieces to create a perfectly personalized design. Happy Holidays!