Throwing a summer party?  Why not make it a Hawaiian Luau Party!  In our previous blog post, we gave some party rental and design tips for a Luau party, which included ideas for linen rentals, table sizes, and theme party rentals.  In this post, we will show you some easy do-it-yourself details that will make your Luau party the best in the Bay Area.
For an easy, do-it-yourself centerpiece:
– Fill an 8" bubble bowl with some sand, seashells and a piller candle.  You can rent the bubble bowl from Stuart Rentals and purchase the rest of those items at Michaels, Big Lots or other crafts stores.
– Rent a Cirrus or Turquoise Glass Charger and fill it with just a little bit of water.
– Place the bubble bowl on top of the charger.
– Buy some strands of orchids from a grocery store (Trader Joe's usually has some beautiful orchids) and cut each orchid from its stem and float them on top of the water and you have a beautiful Hawaiian centerpiece!
Rental items used:
– 8' Bubble Bowl (Also available in 6", 10", 12")
– Cirrus or Turquoise Glass Charger
For some other creative centerpieces, have your florist design your centerpieces in a bamboo container: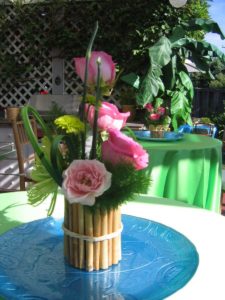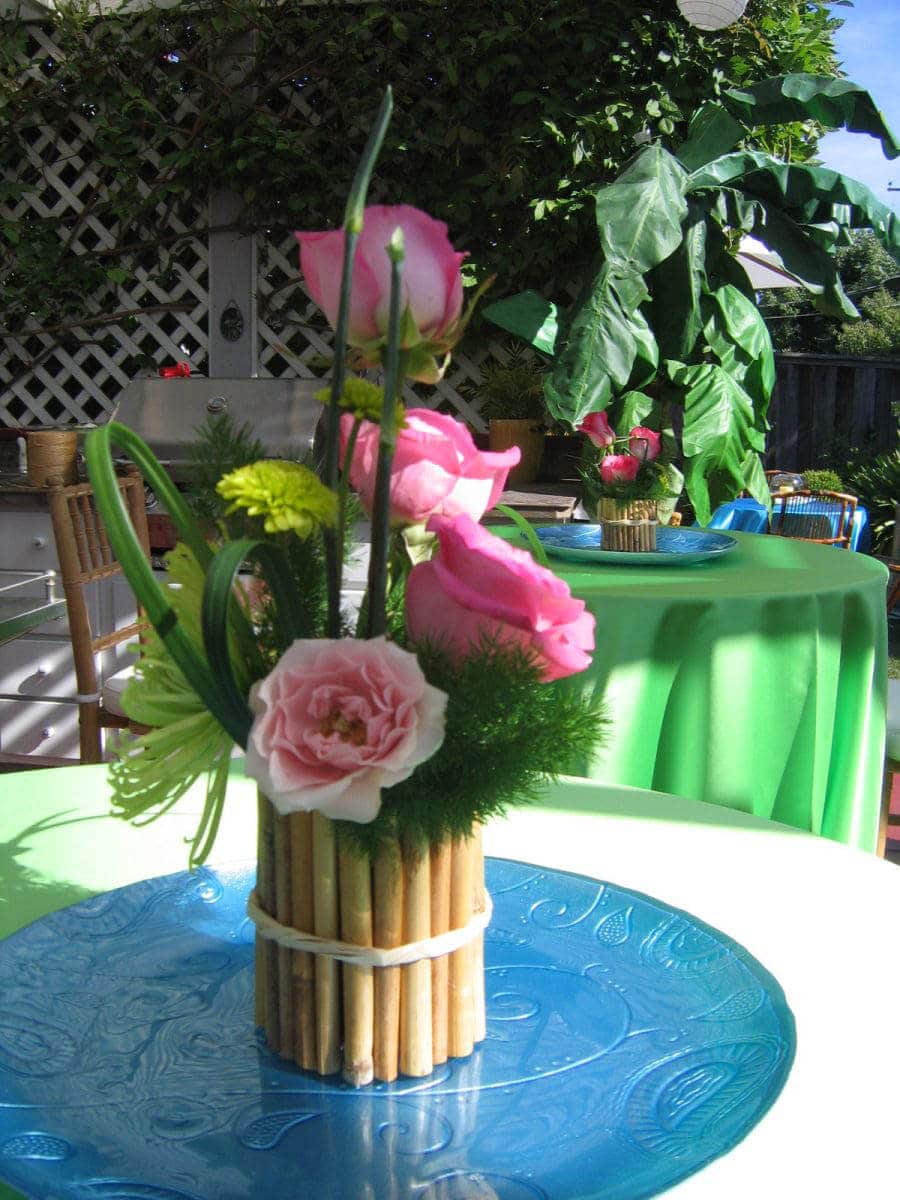 Buffet table
The idea behind this buffet station was to have different levels and to use the Crushed Iridescent Seaside Linens (the blue-green ones) to drape down on either side of the center buffet table to look like a waterfall flowing down.  (Our IT guy thought of that!  I work with such a talented bunch of people!)
The tables used for these were 48" and 60" round tables.  For a smaller version of this buffet station, see below for the rental items to use.
Rental Items:
–         36"x42" Cocktail table (Center buffet)
–         (2) 48" Round tables (Side buffets)
–         (1) 120" Round Crushed Iridescent Aqua Linen (Center buffet)
–         (2) 120" Round Lamour Baja Turquoise Linen (Side Buffets
–         (2) 8' Tabledrape Crushed Iridescent Seaside Linen (Linens draped down on the sides)
–         Chafers 8qt Stainless Steel
Buffet Table – Napkins in a Basket
For your napkins, roll each napkin up and pair it with a cocktail or salad fork.  Use string or raffia to tie them together.  Then place them all in a basket on the buffet table for people to easily grab as they grab their food.
Buffet Table – Flowers
To accentuate the buffet table, use cylinder vases with floating candles.  Fill your cylinder vases with water.  Then put 1-2 strands of orchids under a floating candle for this tropical look.  Or you can put some food coloring, without the flowers, in the water with a floating candle, to match your theme.  They have some great Neon food coloring that you can purchase at Safeway that can turn the color of your water to turquoise, fuchsia or lime.
Yummy Food!
Here is an absolutely fabulous recipe that was used for one of the dishes at the party.  Every time I think about this dish, my mouth starts watering.  I hope you will enjoy it just as much as I do:
Bacon Wrapped Shrimp
1 pkg. Bacon
1 lb. Shrimp (deveined)
1 bunch fresh Rosemary
Balsamic Vinegar
Crumbled Blue Cheese
Wash shrimp and remove tail shell.  Remove bacon from the package and cut slices in half.  Wrap bacon around shrimp and place a toothpick down the center to hold in place.  Dice up the Rosemary into small pieces.
Turn on oven to broil.  Put all the bacon wrapped shrimp on a cookie sheet.  Douse shrimp with Balsamic Vinegar, then sprinkle Rosemary over shrimp and place in oven.  Cook on each side about 4-5 minutes or until golden brown.
While shrimp is hot, sprinkle with crumbled blue cheese.  Enjoy!
We hope these little tid-bits will help make your next Hawaiian Luau party the talk of the town.  If you have any success stories, please share them with us at sales@stuartrental.com.