This weekend is the time to honor the father in your life! This celebration is more than just purchasing a nice gift. It can be such a nice gesture to plan a gathering that will not only express your love and appreciation, but also create some truly lovely memories.
Family & friends, an outdoor set-up, and favorite foods are a winning combination for a perfect afternoon. To keep it simple, the ideal setting is a spacious backyard or a nearby park. Consider canopy rentals to shade the food area and guests who need a break from the sunshine. Pop-up tents provide the flexibility to bring it to a park and set it up yourself, where Hi-peak and Frame tents need to be installed, but provide cooler shade.
Depending on how many people are attending the party, from intimate family to close friends, you may want to rent one or two tables and the necessary amount of chairs. Rectangle table rentals are ideal for this setting as they provide a casual and communal atmosphere. For a fun touch, set up a portable bar and serve out your father's favorite drink!
Few things say "I love you" more than preparing someone's favorite foods! It doesn't have to be anything fancy- pizza, hamburgers, pasta- you know what they enjoy most.
Since this is most likely a laid back affair, décor can be kept to a minimum. Table runners, basic linen rentals, and succulent centerpieces are both subtle and tasteful.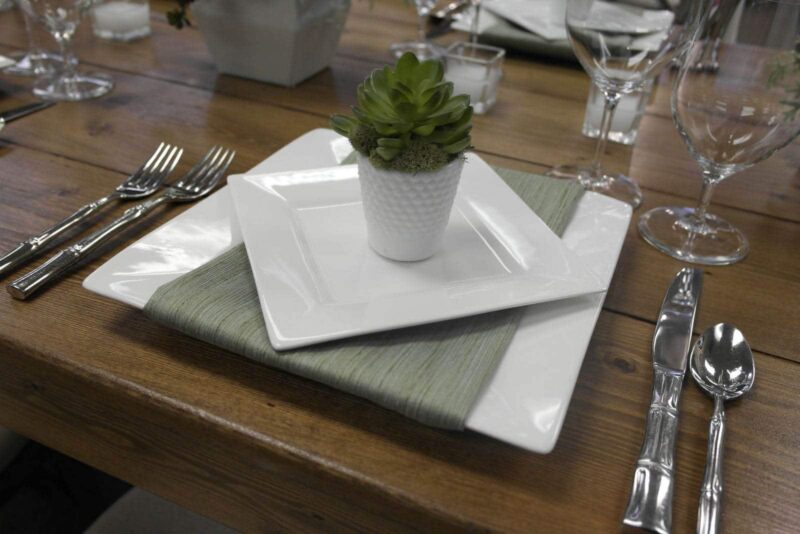 If you really want to make this event memorable, make it a surprise party! It's a great way to take a special moment to the next level.