The next big holiday is right around the corner- Valentine's Day. For many folks, this holiday conjures up a mixed bag of emotions, but there's no reason to avoid celebrating a day with the simplest message; to love and be loved. This holiday is the time to show anyone from your significant other, to your closest family and friends, how much you appreciate and enjoy having them in your life. In the spirit of elevating kind gestures for Valentine's Day, today's blog is sharing a few table designs and decorating techniques for creating an atmosphere that says "today is a special day."
Heart table:
A great base to start off your holiday design is with our 48" heart-shaped table. It provides an intimate space for two and fits our standard 120" linens, giving you a multitude of linen choices  for your table design. Take advantage of the opportunity to utilize this unique piece! Heart-shaped furniture promises a smile of appreciation.
Color Combinations:
Passionate reds, sweet pinks, and elegant whites are the standard color palettes for Valentine's Day. For a more sophisticated look you can pair deep maroons or crimsons with gold and white or ivory. If you're hosting a party, mixing bright pinks and cheerful reds can help create a light and enjoyable ambiance.
Linens:
Linens are always a central focal point for tablescapes, so it's usually best to keep them within the family of the holiday colors. Much like Halloween, Valentine's Day is a holiday for going a little bit over the top. Patterned pink linens with red and white napkins or magenta tablecloths with lavender overlays are only two of the infinite combinations you can put together. For a more subtle look choose two shades, such as crimson and ivory, and continue returning to this combination throughout your design. For less conventional color palettes, combining pastels can be attractive, especially decorated with flowers in lighter hues.
China:
The main decision when choosing china for your table setting is whether or not you would like a patterned border. If you have a simple linen combination, play it up with china that has a gold-colored design around the border. If your color palette is fairly complex, or you prefer a more minimal style, china with no border and plain edges would suit your tablescape best.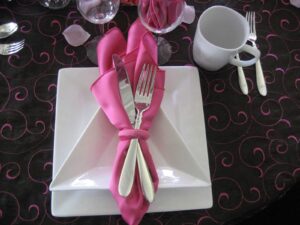 Final Touches:
For a little extra something, fold napkins into the shape of roses, scatter petals across the table, or leave a simple flower on a plate. A lovely last addition to a table set with love.