When throwing a party, there are many things to consider, especially the décor aspect because that is the first impression that your guests will see when they first arrive. When you're tackling the décor, there are a 2 things to consider when you first get started: color and theme. Some parties start out with a particular theme that will help you get started on picking out your colors. For example: Luau parties usually use vibrant colors like turquoise, orange, fuchsia, etc. while casino parties usually use colors like black, white, and red.
But, if you don't have a theme for your event, how do you go about picking out the colors for your linen rentals?
First of all, it's good to understand color. There are warm colors such as red, orange, and yellow and there are cool colors such as green, blue, and violet. Then there are your neutrals, which are black, white, ivory and brown.
It's important to understand how to match and pair your colors and which colors you want as main colors and which colors you want as accent colors. Main colors are usually your table linen while accent colors comprise of a smaller amount of the table settings and are usually your napkins or sash. If you have more than 1 main color, you might want to use an overlay over your linen that goes to the ground.
Let's take a look at the 6 basic colors on a color wheel. Do you remember learning about the colors of the rainbow in school? ROY G. BIV, which stands for the colors: Red, Orange, Yellow, Green, Blue, Indigo, and Violet On a basic color wheel, the color Indigo is usually left out, so that it looks like this:
By using the color wheel to help you, you can find different ways to pair colors with your main color.
Monochromatic Colors:
Using the same color linens, but using light or dark versions of that same color. For example, light pink napkins accent this fuchsia pink linen to the ground. The look is subtle but still allows it to be colorful without introducing another color.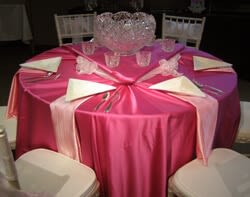 Analogous Colors:
If you want a subtle look, but want something with a little bit more color, you can choose any color linens next to your primary color. For example, red and orange are next to each other on the color wheel and complement each other very well on this buffet station.
This Hawaiian-themed buffet station uses monochromatic colors of Lamour Turquoise linens on the round tables on the left and right and a lighter Crushed Iridescent Aqua linen in the middle. Analogous colors of blue and green are seen here with the Crushed Iridescent Seaside linens as accents on top and flowing down the tables.
There are still so many ways to pair and match colors together. We will continue in our next post with other ways to mix and match and accent your linens and table settings. We would love to hear how you have matched colors together or if you have come across any challenges when preparing your party decor, so please leave us a comment. We love to hear from you.