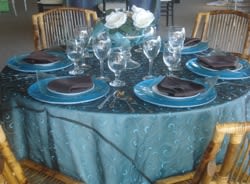 The Overlay Challenge (Part 2) – Mountain View
If you've read our last blog, then you would know that I had issued out an Overlay Challenge to 2 of our Bay Area showroom locations a few days ago.  Each Event Specialist will use our new Organza Swirl Tiffany on Chocolate overlay and design a table setting.  (See our first blog posted on 3/26/09 to see the table setting that the Milpitas Event Specialists designed.)
The event specialist in Mountain View finished her table and the results are great.  The Milpitas table focused on a more brown tone with Tiffany Blue highlights.  The Mountain View table went in a different direction focusing on a more Turquoise color with chocolate highlights.  Both are equally beautiful.
The Mountain View event specialist used a Lamour Baja Turquoise linen to the ground on a 48" Round table.  The tiffany swirls from the overlay gives a subtle pattern and texture to the table that enhances the lamour linen.  The Turquoise Glass Charger adds more depth of color to the turquoise theme.  Our new Tivoli glass plates were placed on top of the chargers to bring a different dimension in shape to each place setting.  Lamour Chocolate napkins folded demurely on top of a Maison Salad Plate was then placed on the Tivoli plates.  Our Bamboo Folding Chairs bring in more of the brown tones to complete this fun and exotic look.
It's fun to see the different takes each designer has.  If you have rented this linen from us and have your own take on a table design that you have created, please let us know!  We would love to post your designs here as well.