Were you watching the America's Cup this year? As it stands, this year's America's Cup was reported to have been the most widely viewed America's Cup ever. This sporting event proves exhilarating for both viewers and participants alike, as the world's fastest boats and the world's best sailors race for the oldest sporting trophy in known history.
The Stuart Rental team is quite proud to have been a part of this year's events, which took place along the San Francisco Bay.  Nearly all of the tenting for the America's Cup Village was taken care of by Stuart Rentals.  From the Napa Valley 10×10 informational tent, to the tenting compound created for the teams participating in the Red Bull Youth Challenge, the Marina Green was bursting with excitement from the festivities.
Our team also had the delight of contributing to the construction of two beer gardens, one of which belonged to internationally- loved Italian brewer Peroni. Our team put up a 20×20 tent with a customized skin, advertising the beer company, with additional red colored stripes on either side. The tent itself was made up of two hard walls, and two soft walls, with a bar at the very center of it all, and entrances into the tent from either side.
The Kaiser Permanente medical tent our team put together resulted in a truly spectacular sight.  A 30×30 tent with hard walls, a beam and plywood subfloor, and an incredible raw graphic skin to work with, transformed into a functioning hospital like any other Kaiser location.
Stuart Rentals also put up the Healthy Ocean's Project exhibit tent, a 40×50 tent, with three sides of hard walls, and marine grade carpeting. The Healthy Ocean's Project was an incredibly important and educational exhibit calling for ocean-related awareness and focused mainly on three areas; Marine Protected Areas, Sustainable Seafood, and Marine Debris/Plastics.
In addition to the larger projects taken care of at Marina Green, the Stuart Rental Company also assisted with several other projects beyond the America's Cup Village. On the Peninsula, a 15×15 custom medical tent was put up for Kaiser Permanente, as well as several larger tents along Pier 23 and 27.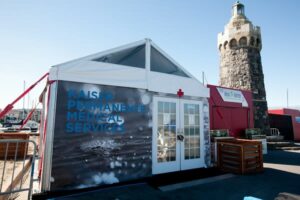 On San Francisco's Pier 29, we had the honor of putting in the subfloors for visiting Chef Tony Stewart's New Zealand inspired pop up restaurant, the Waiheke Island Yacht Club. The pop up is in action for a while longer for any of you interested in an exotic food adventure!
Our team truly pulled out all the stops during our America's Cup collaboration, and with great effort came spectacular results. We are so honored to have been a part of such a traditional and well-loved event.