Being in the event industry is so much fun. It's especially wonderful to be able to see an event space be transformed from start to finish. Most guests arrive at the party when everything is already completed.  They get the wow factor of the complete set-up. But, I think when you are there from the start and you actually see what you have to work with from the beginning, the wow factor is even more rewarding. It's like we are magicians, transforming a somewhat unappealing room into something absolutely fabulous. You just can't believe that they are the same room.
This, of course, is largely due to the creative and talented event planners and designers that we work with.  Recently, we teamed up with Crème de la Crème Events to completely transform the Fremont Teen Center for a 150 person sit-down wedding.
The Teen Center is a great space for community events and meetings. But when it comes to hosting an elegant wedding, the bride and groom wanted something a little bit more.
That is where Crème de la Crème Events and The Stuart Rental Company came in and worked our magic. Take a look at the pictures below to see the amazing transformation.
Below is the entrance to the attached room that housed the buffet area. Our white premier drapes were tied back with a green sash to create an elegant entryway.
The cake table, covered with a Stravinsky Lime linen, stood out beautifully in the midst of this beautiful white room.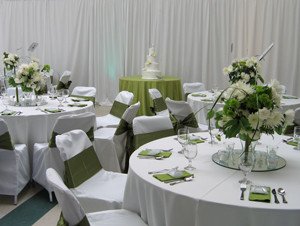 To see more pictures of this event, check out our Facebook page.